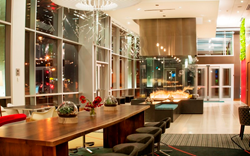 Denver, CO (PRWEB) December 29, 2015
Homewood Suites Denver Downtown Convention Center welcomes the 26th Annual Colorado RV Adventure Travel Show to the Colorado Convention Center from January 6th- 9th. Attendees can see exhibits featuring all new 2016 RVs, accessories, camping equipment and much more. Ticket prices start at $12, with children 12 and under free. More information about the Colorado RV Show can be found at http://www.gsevents.com/shows/display.cfm?showID=75. To celebrate the show's arrival to Denver, Homewood Suites Denver Downtown Convention Center is offering suites starting at $145 per night! For more information about booking a room for the Colorado RV Show, please call (303) 534-7800 and ask about the Colorado RV Show rate.
At Homewood, all guest rooms are suites that feature a full-size refrigerator, microwave, dishwasher, stove, all utensils, dining area, comfortable king-size bed and much more. High-speed Internet and breakfast are complimentary for all guests. Guests may inquire about rooms with mountain views and accessible rooms, both based upon availability. Located a ½ block from the Colorado Convention Center, Homewood Suites is within easy walking distance to Larimer Square, 16th Street Mall, the US Mint and plenty of great dining options.
Homewood Suites Denver Downtown Convention Center is proudly managed by Stonebridge Companies in Denver, CO.
Founded in 1991 by Navin C. Dimond, Stonebridge Companies is a privately owned, innovative hotel owner, operator and developer headquartered near Denver, Colorado. This diverse listing of properties includes select-service, extended-stay, mid-scale and full-service hotels in markets throughout the U.S. For detailed information, visit our website at http://www.sbcos.com.