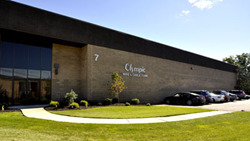 This is another example of how our defense and aerospace industries can bring positive change and ultimately drive quality and enhance overall standards to the commercial industry
FAIRFIELD, NJ. (PRWEB) December 31, 2015
Due to the new QPL listing mandate, Olympic Wire & Cable is proud to announce they will be providing to their customer base QPL compliant M23053 Heat Shrinkable Tubing.
Olympic Wire & Cable has been providing various types of cable for over 35 years to the professional, commercial, and residential markets for decades. They are announcing the new mandate and are proud to be providing QPL listed M23053 Heat Shrinkable Tubing. Olympic Wire & Cable fully supports the new mandate of QPL listing coupled with "First Article Test Report" for M23053 Heat Shrinkable Tubing as major benefit for the commercial industry. Additionally, with the implementation of the QPL standard applying to Heat Shrinkable Tubing, all QPL items including AS25053 must also go through a 3-year review and retention of qualification cycle.
Many complaints and criticisms concerning low quality products over the years from end users have lead to the enhancement from the present AMS-DTL-23053 standard to a more stringent code. Since wire and cable distributors provide the Heat Shrinkable Tubing to many markets and more importantly to one key market, the aerospace and defense industries, it only made sense that the final push would come from several large military and aerospace end users requesting a QPL Standard. Many industry experts exclaimed this would be the best solution to eradicate substandard products and to ensure that the products meet these new QPL standards and are of premium quality.
Olympic Wire and Cable offer a wide range of Heat Shrinkable Tubing meeting the new QPL standard in various sizes, dimensions, colors, flexibility, sunlight resistant, and are flame retardant. Additionally, the product is offered in various long lengths, shrinks evenly – will not split even if placed over sharp edges, with a shrinkage ratio to 50 % of supplied diameter at 121 degree centigrade, and is solder iron resistant.
According to Diane Scott, Manager of Inside Sales for Olympic Wire & Cable, "This is another example of how a collective push from significant and influential industries can bring positive change and ultimately drive quality and enhance the overall standards to the commercial industry".
Olympic Wire and Cable also ensures and provides guidance that all products, including its Heat Shrinkable Tubing that are distributed and sold to its value customers are RoHS Compliant (European Unions Restriction on Hazardous Substances)
About Olympic Wire & Cable - Olympic Wire & Cable is a leader and providing more than 35 years of service to the wire and cable industry, Olympic Wire and Cable has the experience and skill – plus expert service and training — that mean success for our customers. Our stock positions and partnering with key suppliers assure fast delivery throughout our entire product range.
From the simplest hook-up wire to today's leading category products and fiber optic cable for the most sophisticated voice, data and video requirements, Olympic meets the wire and cable industry's complete range of needs.
Contact: Olympic Wire & Cable: Diane Scott - 800-526-2269 - diane(at)olympicwire.com