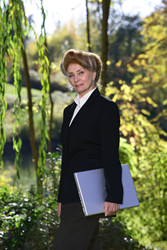 Grants Pass, OR (PRWEB) December 30, 2015
Winter may be the most dangerous eye health season. Too many people, according to "EHS Today" magazine (Sandy Smith, "Winter Workplace Eye Protection," December 2015), are unaware of the extent to which winter weather – including indoor weather – can damage their eyes. Fresh water activist and radio host Sharon Kleyne has been teaching about winter eye health for decades. In an upcoming radio broadcast, Kleyne will explain why eye protection should be a concern entering the 2015-2016 winter season. She will suggest preventive measures for winter vision care in addition to those described in the "EHS Today" article.
Vision loss is one of the 10 most common disabilities, "EHS Today" reports, yet 90 percent of eye injuries are preventable – and winter injuries may be the most preventable.
Kleyne will discuss winter eye health and safety during the Sharon Kleyne Reports™ segment of the Sharon Kleyne Hour® Power of Water® radio show of Monday, Jan. 4, 2016. For the live show or a podcast, go to http://www.SharonKleyneHour.com.
The globally syndicated, education oriented radio show is heard weekly on VoiceAmerica (Health and Wellness, and Variety Channels) and Apple iTunes. The show is sponsored by Bio-Logic Aqua® Research Water Life Science®, founded by Kleyne and specializing in fresh water, the atmosphere, body surface evaporation and dehydration. The Research Center's signature product for dry eye is Nature's Tears® EyeMist®.
There are three winter factors that could impact vision, says Kleyne. First is that cold air simply can't hold as much atmospheric water vapor (humidity) as warm air. A puddle of water around an air conditioner in summer is the result of humidity leaving the air as it cools off. Cold wind is especially dehydrating to eyes and skin. When the air is dry, the eye surface, which is 99 percent water, can lose moisture content to accelerated evaporation and become dry, dehydrated and irritated.
The second winter factor affecting the eyes, according to Kleyne, is reflected ultraviolet or UV radiation. In summer, UV radiation exposure is the result of direct exposure to sunlight. Accumulated UV radiation is a prime cause of sunburn, skin cancer and cataracts and is an excellent reason for wearing sunglasses and sunscreen in summer. Most people are unaware that on a sunny day in the snow, reflected UV radiation can also be intense and while it probably won't cause sunburn, it can contribute to eye surface dehydration and cataracts.
The third winter factor, Kleyne explains, is indoor air. If one takes freezing outdoor air, brings it inside and heats it up, unless the heater is also a humidifier, the forced air heat will come out very dry and dehydrating to skin and eyes. Warm dry air is even more dehydrating to eyes than cold dry air, especially when blowing in your face from a heating vent. Recirculated indoor air contains other dehydrating factors such as ambient skin flora and bacteria, in far greater amounts than fresh, outdoor air. Office buildings with sealed, insulated walls and windows are especially problematic.
The "EHS Today" article listed three primary tips to keep eyes safe in winter. Sharon Kleyne agrees with these tips and offers some additional insights.
Keep eyes moist. This can be achieved, says Kleyne, by avoiding cold wind, reflected UV radiation, low humidity rooms and heating vents. Sunglasses, regular eyeglasses and goggles keep moisture that has evaporated off the eye surface close to the eyes to slow further evaporation. A room humidifier, house plants or bowls of water will keep indoor rooms humidified.
Kleyne suggests two additional strategies for keeping eyes moist: First, drink at least eight full glasses of fresh water per day in addition to all other fluid intake. Second, whenever a high risk eye dehydration situation is encountered, apply an all water eye mist supplement using a personal hand held medical humidifying device. Nature's Tears® EyeMist® from Kleyne's Bio-Logic Aqua® Research Water Life Science® is an all water eye mist supplement.
Wear sunglasses in winter. This is especially true in sunshine in the snow, according to Kleyne. Sunglasses (and regular eyeglasses) also keep wind out of the eyes and hold heat and moisture close to the eyes.
Wear eyeglasses rather than contact lenses. Contact lenses are dehydrating, Kleyne explains, whereas regular eyeglasses, as noted, keep wind out of the eyes and hold heat and moisture close to the eyes.
©2016 Bio-Logic Aqua® Research Water Life Science®. All rights reserved.