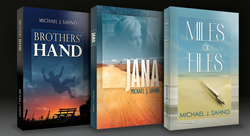 "We're certainly the first to publish an author's first three novels all at once." - Michael J. Sahno
Tampa, FL (PRWEB) December 08, 2015
A Florida-based company, Sahno Publishing, will launch on December 10, 2015, simultaneously releasing its CEO's first three novels.
The founder, Michael Sahno, believes strongly in giving back to the community, and the company will donate a percentage of each book sold to a specific charity.
"We're planning to give to Intrepid Fallen Heroes for every copy of Brothers' Hand sold; to The Trevor Project for every copy of Jana; and to Earth Island Institute for every copy of Miles of Files," Sahno said. "We will continue to give back as we acquire more authors to publish."
Each of the first three Sahno Publishing novels takes place in an area of the country where the author has lived:

In Miles of Files, an employee finds out that his boss is stealing from their Tampa company's 401(k), and has to decide whether to try to stop the criminal at the risk of losing his own job.
In Jana, a Connecticut daycare worker is fired due to her sexual orientation, and must summon all her strength to fight back.
And in Brothers' Hand, a small-town New Yorker loses his hand in a fall, then falls hard for his occupational therapist.
"There are quite a few firsts associated with our launch," Sahno said. "I think we're the first publishing company to state right from the start that we operate from a literary excellence formula rather than a financial formula; the first publishing company to pledge to worthy causes even before our initial launch; and we're certainly the first to publish an author's first three novels all at once. These are the kinds of novels we'd like to see in The New York Times Book Review."
Born in Bristol, CT, Sahno received his Master's in English from Binghamton University, then served in several management positions before becoming a full-time professional writer in 2001. In the following years, he wrote more than 1,000 marketing articles on a wide range of topics.
Sahno Publishing will begin accepting manuscript submissions for future releases in January 2016.
For more information, contact:
Michael J. Sahno
Email: info(at)msahno(dot)com
http://msahno.com
(813) 528-2622