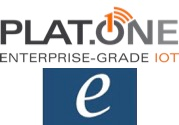 This partnership allows us to develop and deploy our mission-critical sensing solution on PLAT.ONE's proven application platform, accelerating our time to market.
Palo Alto, CA (PRWEB) April 16, 2015
PLAT.ONE, the first Enterprise-Grade Internet of Things (IoT) application platform, today announced a partnership with Embedor Technologies, a provider of wireless sensor systems for civil infrastructure, to provide a complete bridge and civil infrastructure monitoring solution.
Embedor Technologies provides continuous real-time structural health monitoring (SHM) of civil infrastructure using wireless smart sensors, enabling infrastructure owners to improve safety, estimate remaining service life, and significantly reduce maintenance costs. Its revolutionary smart sensor framework enables an efficient wireless solution, cutting installed costs by a factor of 50 over traditional wired systems. Embedor has deployed the world's largest wireless bridge structural health monitoring system and is piloting solutions with major railways and highway builders.
PLAT.ONE offers a full-stack, enterprise-grade application platform for mission-critical IoT applications. The end-to-end solution provides distributed edgeware that runs on end devices, connected with a rich device, data and applications platform that enables 10x faster development and deployment of enterprise applications.
This partnership pairs Embedor's sensing systems and PLAT.ONE's application platform to provide a complete and continuous structural health monitoring solution. Such continuous monitoring and precision targeting of maintenance can improve safety and save billions of dollars for infrastructure owners.
"Our ultimate goal is to develop living databases, sensors and diagnostic tools leading to Informed Decisions," said Bill Spencer, CEO of Embedor Technologies. "This partnership allows us to develop and deploy our mission-critical sensing solution on PLAT.ONE's proven application platform, accelerating our time to market."
"We were impressed by the technology and domain knowledge of the Embedor team," said Filippo Murroni, CEO of PLAT.ONE. "Our enterprise-grade application platform uniquely addressed their stringent application requirements while providing unmatched scalability and security."
PLAT.ONE and Embedor were both selected by Cisco(R) into the Cisco Entrepreneurs in Residence (Cisco EIR) program earlier this year. Cisco EIR is a startup incubation program that recognizes and supports early-stage entrepreneurs focusing on the Internet of Everything (IoE), Smart Cities, Big Data/analytics and other transformational opportunities strategic to Cisco. The program includes resources and opportunities to work with Cisco product and engineer teams, co-working space in Silicon Valley, financial support and potential strategic funding. More information about Cisco EIR is available at http://eir.cisco.com.
About PLAT.ONE
PLAT.ONE is a renowned developer of Enterprise-Grade software and industrial solutions. Since its release in 2011, PLAT.ONE has established itself as the platform of choice for connected applications in major telecoms, system integrators and global industrial equipment companies. PLAT.ONE's distributed architecture, integrated development and deployment features, and native security and data-aware operations dramatically reduce application development time while providing Enterprise-Grade, non-stop operations based on open industry standards. Businesses use PLAT.ONE to deploy innovative connected solutions ranging from smart equipment and transportation to smart cities and manufacturing. For more information, please visit our website at http://www.platone.io or follow us on Twitter at @PLATONEIoT.
About Embedor
Embedor is the developer of wireless monitoring systems for civil infrastructure and other IoT applications. The synchronized distributed sensing technology at the core of Embedor's wireless smart sensor platform and software framework is capable of sensing at multiple scales to facilitate reliable, real-time structural condition assessment for extreme events (earthquakes, hurricanes, etc.) as well as long-term deterioration. Continuous SHM using Embedor's smart sensors offers an attractive value proposition, the potential to drastically reduce inspection and maintenance costs, for the owners of large-scale civil infrastructure.