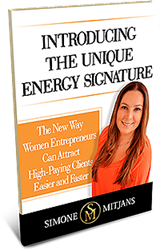 Our energy is the most important success tool we have.
New York, NY (PRWEB) February 03, 2015
Simone Mitjans, speaker and coach for successful women entrepreneurs, has revealed a new system focusing on "The Unique Energy Signature," which is transforming the businesses of women coaches, enabling them to stand out in today's crowded marketplace.
"It's a mistake to rely only on a Unique Selling Proposition," says Mitjans. Today women entrepreneurs must understand that their Unique Energy Signature is like having an instruction manual for authentic marketing, sales success & business life."
With the Unique Energy Signature, coaches have a clearer idea of which prospects will respond to their sales effort and become ideal clients.
Mitjans says the solution came to her to her after she had been marketing her business and finding she was attracting the wrong clients. She felt a pull toward some people and push feeling with others, and realized the push- pull energy she felt was key to finding a solution.
"We are either pulling in our right clients or pushing them away," says Mitjans. "What sets someone apart from everyone else in the marketplace is their Unique Energy Signature.
"The process is simple. When you are not in alignment with your Unique Energy Signature, your business is practically invisible. However, when you are in alignment with your UES, your business "It Factor" is irresistible (you are easily pulling the right high-paying clients YOU are meant to serve.)"
Once she applied the Unique Energy Signature and an accompanying marketing system, the results transformed her business. And when Mitjans taught the Signature and the System to her clients, they too experienced spectacular gains in their businesses.
The story of her discovery and the business transformation it led to for her and her clients are detailed in her new special report, Introducing the Unique Energy Signature you can download here http://bit.ly/1xZqYGq
About Simone Mitjans
Simone Mitjans is the founder and CEO of the Success Club International, a Business Transformation company where she provides seminars, trainings and mentorship worldwide. She has mentored countless luxury-lover women business owners, to discover their business "It Factor" and apply authentic marketing strategies that honor who they are (because One Size Does Not Fit All!) As a result, her clients are empowered to not only double their sales in 12 months or less but also enjoy a beautiful, balanced and energized life. Simone Mitjans has a background in science, is a Published Author, international speaker, Direct Response Marketing Expert, Master Practitioner of Neuro Linguistic Programming (NLP), Master Practitioner of Time Line Therapy TM, Master Hypnotist, Certified Spiritual Practitioner, Practitioner of Neuro Pathway Restructuring and Level 4 Human Design Specialist.