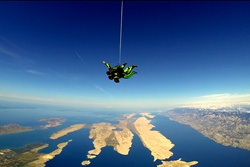 Find what makes you happy and go for it with all your hearth. Have courage and listen to what your dreams tell you.
(PRWEB) February 26, 2015
Adventure Driven Vacations (ADV), a travel agency based in Croatia, announces a wide range of overseas adventure tours for this summer holiday season. Activities range from one-day and multi-day tours like rock climbing, sea kayaking and motorcycling around national parks, to one-day adrenaline thrills like aerobatic flights and skydiving Croatia.
Overseas adventure travellers like to plan their holidays far in advance. One of the most exciting things for travellers is planning and budgeting small expeditions. Croatia is already a well-known holiday destination because of its beautiful nature and historical heritage. Today, adventure travel agencies are offering a different perspective to the natural beauty of Croatia by allowing travellers to directly experience it through exciting escapes.
Croatia's tourism board recently changed its slogan from "Mediterranean as It Once Was" to "Croatia, Full of Life," further cementing adventure tourism in Croatia and putting the country on track to develop new and sustainable sources of growth for tourism.
"For travellers, adventure tourism means an experience-based holiday; it means added value as they learn and interact with local populations and connect with their core values," said Taleb Rifai, UNWTO Secretary General.
The core value of ADV is celebrating life through intense moments of adventure and connecting with nature. Because of this, their brand colour is green.
Find out more about adventures in Croatia. All adventures are available online.
About Adventure Driven Vacations
ADV is an adventure travel agency offering a wide selection of adrenaline thrills: one-day, multi-day tours and custom expeditions in Croatia. It is the first adventure travel company in Croatia to offer such a wide range of tours covering activities in the sea, in the air and on land. Powered by an experienced team and friendly and passionate guides, each adventure tour emphasises a connection with nature, local customs and food.