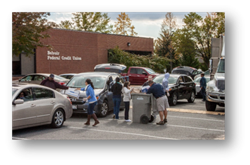 Woodbridge, VA (PRWEB) October 20, 2015
On Saturday, October 17, 2015, Belvoir Federal Credit Union hosted their Annual Community Shredding event in Woodbridge, VA. This free, community event was open to members and non-members.
This year's shredding event, assisted hundreds of people in more than 200 cars and shred over 8 tons of paper, which is more than previous events. Belvoir Federal partnered with TrueShred to have two shred trucks available for patrons who came to shred their documents securely.
Belvoir Federal strives to be environmentally friendly and a leader in innovative technologies that help members be environmentally concise. To help the ecosystem and our members stay committed to helping the environment, Belvoir Federal Credit Union offers an annual shredding event, electronic receipts and statements, online and mobile banking, and uses paper cups instead of Styrofoam. Learn more at http://www.belvoircreditunion.org/updates/community-updates#/tab/helping-the-environment.
About TrueShred
TrueShred is a secure shredding company that serves the DC, Maryland, and Virginia areas. TrueShred's efficient process ensures a secure chain of custody for unwanted documents. Once the documents are shredded, the destroyed paper is then recycled. Learn more at http://www.trueshred.com.
About Belvoir Federal Credit Union
Belvoir Federal is a member-owned, full-service financial institution that provides the foundation for the financial success of our Members. Belvoir Federal, a not-for-profit organization, has served the Fort Belvoir and U.S. Armed Forces community since 1946. For more information about Belvoir Federal, please visit http://www.BelvoirCreditUnion.org.
###