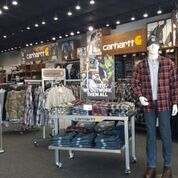 "Yuba City is full of hardworking people who have already welcomed us with open arms," explained Stu Nelson, CEO of BareBones WorkWear®. "The City has been amazingly supportive and has really helped make this process easier than expected."
Sacramento, Calif. (PRWEB) September 15, 2015
BareBones WorkWear®, a leading provider of workwear and outdoor apparel online and through retail stores, is proud to announce the opening of their second franchise location, the first in Yuba City and Sutter County and the second franchise for the company since announcing the availability of their business model as a franchise business opportunity late last year. Owners of the first franchise in Rocklin, Aaron and Ronee Robertson, are opening the Yuba City store. Since opening on August 1, it is already one of the top performing stores in the network. The new Yuba City store is located at 769 Colusa Ave. in the former site of Blockbuster Video on Highway 20 near the new Harbor Freight. It is one of the largest store locations in their network with over 7,200 sf and was remodeled for energy conservation and efficiency including new A/C units and all LED lamps in the showroom. A grand opening celebration will take place at a later date. For more information visit http://www.BareBonesWorkWear.com.
"Yuba City is full of hardworking people who have already welcomed us with open arms," explained Stu Nelson, CEO of BareBones WorkWear®. "The City has been amazingly supportive and has really helped make this process easier than expected."
Based in Sacramento, Calif., BareBones WorkWear operates five owned and operated retail locations in Northern California in addition to franchising. BareBones WorkWear® was recently ranked Inc. NO. 2013 on Inc. magazine's 34th annual Inc. 5000, an exclusive ranking of the nation's fastest-growing private companies. Workwear retail franchises are rare yet the workwear and uniform market is poised for solid growth through 2017. According to a March 2013 study of the North American workwear and uniform market by Frost & Sullivan, this market generated sales of $9400.3 million in 2012. Growth potential is staggering with predictions of the market potential growing to $10.49 billion by 2017, or a compound annual growth rate of $2.2%.
BareBonesWorkWear is a retro retail concept packaged in an innovative retail concept. Its primary focus is to provide a fulfilling customer experience. "The corner haberdashery store was where a guy went to get a basic overall or a pair of classic Levi's® and a pair of hearty logger boots that he relied on to work hard. It was not about fashion or frills, it was about a trusting relationship with the owner, his staff, and the brand," added Nelson. Each location is equipped with an "extended aisle" kiosk which allows access from the store to over 500,000 products through the BareBonesWorkWear.com retail website. Items purchased through the kiosk can be shipped to the customer's home or to the local store. Additionally, BareBones WorkWear's headquarters is one of the largest corporate embroidery production facilities in Northern Calif. whose goods can be viewed via in-store kiosks.
BareBonesWorkWear primarily offers the following workwear categories in addition to the broader outdoor market:

Safety & Work Compliance – Those who must adhere to specific standards in their apparel and footwear. Personal protection equipment (PPE)
Tactical - Features provide and enhance physical abilities, camouflage protection, for comfort and tactical benefits
Utilitarian - Lifestyle products can be called "outdoor," "casual," "sportswear," "teamwear," "spiritwear," and "outfitters." The useful quality of selected BareBones products define the cross-over of this mix.
Medical - Scrubs, bio-fluid resistant footwear, and accessories make up this market. Complimentary accessories like stethoscopes and watches are also available.
About BareBonesWorkWear®
BareBones WorkWear®, a leading provider of workwear and outdoor apparel online and through retail stores, is now available as a franchise business model. BareBonesWorkWear recently ranked BareBones WorkWear® Inc. NO. 2013 on its 34th annual Inc. 5000 for 2015, an exclusive ranking of the nation's fastest-growing private companies. Based in Sacramento, California, BareBonesWorkWear® operates five retail locations in Northern California including: Truckee-Tahoe, Auburn, Sacramento, Rancho Cordova and West Sacramento and a powerful online marketplace. BareBonesWorkWear® is also a one-stop shop for embroidery needs for organizations. For more information and an even larger selection of products online visit http://www.BarebonesWorkWear.com.
###