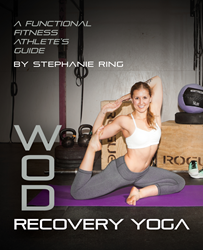 San Francisco, CA (PRWEB) March 27, 2015
Endure Yoga is launching WOD (Workout of the Day) Recovery Yoga for functional fitness athletes. This new program matches yoga poses with functional fitness movements and creates a specific protocol for post-workout cool down. This program utilizes yoga to improve recovery, prevent injuries, increase mobility, promote breath control and mental focus.
Karen Lefurgy, competitive athlete at CrossFit Marin, said: "I started practicing yoga long before I started Crossfit® training, but quickly, due to time constraints, yoga disappeared from my routine. I started experiencing aches, inflexibility and lack of movement fluidly, all of which did not support my Crossfit® goals. I love Crossfit® and I love yoga, but I became disheartened when yoga teachers told me weightlifting was getting in my way. Enter WOD Recovery Yoga..."
Stephanie Ring, a certified yoga instructor, has been practicing power yoga for 10 years to support her training as an athlete. When she added Crossfit® into the mix a year ago, her power yoga practice began to slowly transform. "As my training at CrossFit Marin increased," states Ring, "I experienced the common challenge of maintaining my power yoga practice. Crossfit® - which has gymnastics, cardio, and weightlifting movements – compelled me to convert my yoga practice from power vinyasa flow to a style that supported my training and recovery. I soon realized this could benefit my fellow athletes in the community and created the WOD Recovery Yoga Program."
WOD Recovery Yoga is a component of Endure Yoga, a program incorporating mobility assessments, affiliate programming and a comprehensive 85-page eBook, which makes yoga accessible for any athlete looking to improve post-workout recovery. Athletes can follow the photographs and descriptions for each yoga pose, and easily match it to their Workout Of The Day. "Ring's program is clear and direct," states Lefurgy. "Her book finally forms a bridge between the Yoga and Crossfit® disciplines. If you do Crossfit® you should give this a try!"
WOD Recovery Yoga is:

a collection of yoga sequences designed to support functional fitness movements and improve recovery time.
a way to improve overall performance by increasing mobility and flexibility.
About Endure Yoga: Endure Yoga is yoga for improved athletic performance. The WOD Recovery Yoga Program is an extensive 85-page eBook for functional fitness athletes to use as a guide to integrate this program into their own training.
Stephanie Ring
Endure Yoga
858-229-0403
stephanie(at)endureyoga(dot)com