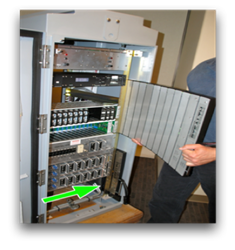 "We absolutely love it," says Adam Lough, signal engineer for the Utah Department of Transportation. "It has been rock solid, easy to use, install and fits great without taking up too much room. The UPStealth® is going to be a great solution for us."
WILSONVILLE, Ore. (PRWEB) March 10, 2015
Blue Earth Energy Power Solutions' UPStealth® Battery Backup System, an alternative, uninterruptable power supply that bends like Gumby® and just may be the iPhone® of the battery world, will be deployed in Oregon. The UPStealth®, paired with Nickel-Zinc chemistry, can help prevent catastrophes that can occur when winter storms or power failures strike and traffic intersections go dark, crippling mobility and safety of the public; or when vehicles hit the traffic cabinets, creating a risk of electrical shock and hazardous material spills.
"The UPStealth®, is the first ever Nickel-Zinc battery backup, that can improve intersection safety and reduce congestion, pollution, transportation costs and worker compensation claims associated with the most dangerous sections of US roads," says Tim Hysell, Corp Sr. VP technology and program group of Blue Earth, Inc. "We're excited that the UPStealth® will be a game-changer in the field of traffic management and will enhance the steps toward smart cities all over the world."
Transportation departments adopting the UPStealth® include over 35 agencies in Alabama, California, Colorado, Idaho, Nebraska, Oregon, Tennessee, Utah, Virginia and Washington DC.
UPStealth® & Oregon's Dangerous Biggs Junction, I-84 at US 97
One of the nation's most rigorous labs, at the Oregon Department of Transportation (ODOT), just approved UPStealth® for use at the dangerous Biggs Junction in Sherman County, where several highways merge, creating safety hazards and back-up problems. Installation of three UPStealth® Battery Backup Systems is set for this spring and may be considered for some of ODOT's 1,300 other traffic signals.
The UPStealth® Unique Form Factor, Cost Savings and Life of Battery
"Other options we looked at were effectively a car battery that tends not to last, so when you really need them to work, they don't," says Scott Cramer, traffic signal engineer for ODOT. "The UPStealth® is super flat and fits within the existing traffic signal controller cabinet. We wouldn't need to spend money on extra equipment to house the backup battery. With less stuff on the street there is less maintenance and less chance it will get hit. There should be less cost and a longer battery life, and that appeals to our retrofit projects."
"It kind of sounded a bit too good to be true," says Debi Sader, lead traffic operations engineer in Longmont, Colorado. "But after attending a webinar we realized the UPStealth® is not only the correct choice for us because it eliminated the use of a piggyback cabinet, but also did not use the lead-acid batteries which we don't prefer for safety reasons."
"We recommended UPStealth® to the city of Hillsboro, Oregon, based on its more environmentally-friendly components in case of a cabinet knock-down and sleek design that fits within an existing 330 series cabinet," says Shaun Quayle, senior engineer for Kittelson & Associates, a transportation, engineering and planning firm. "The low effort approach to maintenance was also appealing. Their knowledgeable support staff was helpful in both the lab test at ODOT, then upon field deployment."
Why UPStealth® is Different
● Recyclable, eliminating costly disposal issues and reduces carbon footprint.
● First Nickel-Zinc, lead-acid free UPS/BBS.
● Patent Pending, bendable form fits inside the existing cabinet. No need to build another.
● 98 percent energy efficiency.
● Life is typically twice as long as lead-acid UPS/BBS.
● Withstands harsh weather environments and doesn't require heating/cooling devices.
● Advanced intelligent battery management software allows remote monitoring.
● Easy, safe, and quick installation and operation.
● No manual maintenance needed during 5-year warranty.
● Nickel-Zinc allows for no threat of "outgassing" and hazardous contamination.
● Cost of ownership is less.
● Unique financing for cities.
● Made in the USA.
Intersections: A "National Public Safety Problem"
There are more than 300,000 signalized traffic intersections(1) in the US and all are considered one of the top priorities of the Federal Highway Administration Office of Safety (FHWA). The agency says on average every hour, one person dies in an intersection-related car crash in the US. Roughly 25 percent of the fatalities and about 50 percent of the injuries occur at intersections.
1) US Dept. of Transportation Federal Highway Administration, Manual on Uniform Traffic Control Devices
Other UPStealth® Applications
Vertical market applications for the UPStealth® include railroad crossings, freeway ramp monitoring, school zone flashers, emergency evacuation routes and vehicle messenger signs. Other industries that may benefit include data centers, telecommunications, oil and natural gas wells, remote cell towers, risk management services, and demand response systems to decrease energy usage during peak load pricing periods charged by utilities.
About Blue Earth Energy Power Solutions
Blue Earth Energy Power Solutions is a division of Blue Earth, Inc. (BBLU) and is the energy power solutions division for battery backup systems. Our patent pending UPStealth® is the lead-acid free, energy efficient, intelligent digital battery backup management system. For more information, please visit blueeartheps.com.
About Blue Earth, Inc.
BBLU is engaged in the clean technology industry with a primary focus in energy efficiency and alternative/renewable energy sectors. The Company strives to participate in the global movement for a sustainable planet by offering products and services that will optimize energy use, reduce harmful environmental emissions and materially reduce energy costs to its customers. For more information about Blue Earth, Inc., please visit blueearthinc.com.
Forward Looking Statements
This press release contains forward-looking statements within the meaning of Section 27A of the Securities Act of 1933 and Section 21E of the Securities Exchange Act of 1934. All statements other than statements of historical facts included in this press release are forward-looking statements. Words such as "believes," "anticipates," "plans," "expects," "may," "will," "should," "intends," and similar expressions are intended to identify forward-looking statements. These statements relate to future events or to the Company's future financial performance, the performance of UPStealth®, and the planned adoption and installation of UPStealth®. These forward-looking statements are based on the company's current beliefs and expectations, and involve known and unknown risks, uncertainties and other factors that may cause our actual results, levels of activity, performance or achievements to be materially different from any future results, levels of activity, performance or achievements expressed or implied by these forward-looking statements. Investors should not place any undue reliance on forward-looking statements since they involve known and unknown risks, uncertainties and other factors which are, in some cases, beyond the Company's control which could, and likely will, materially affect actual results, levels of activity, performance or achievements. Any forward-looking statement reflects the Company's current views with respect to future events and is subject to these and other risks, uncertainties and assumptions relating to operations, results of operations, growth strategy and liquidity. Such risks, uncertainties and other factors, which could impact the Company and the forward-looking statements contained herein are included in the Company's filings with the Securities and Exchange Commission, including the Company's Form 10-Ks, Form 10-Qs, Form 8-Ks, Proxy Statements and other filings. The Company assumes no obligation to publicly update or revise these forward-looking statements for any reason, or to update the reasons actual results could differ materially from those anticipated in these forward-looking statements, even if new information becomes available in the future.
# # #