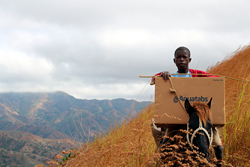 World's number 1 emergency water disinfection company, manufacturer of "Aquatabs", changes ownership to German/Irish group
Wexford, Ireland (PRWEB) March 03, 2015
Wexford, Ireland based Medentech has been acquired by German equity fund investor Paragon Partners together with the Irish management of Medentech, in a full equity financed buyout.
Medentech are manufacturers of Halal certified Aquatabs, the world's number 1 water purification tablet. Aquatabs are used by all major international aid agencies and peacekeeping forces. Each year some 1 billion Aquatabs are used globally. Medentech is a 100% export firm with sales to over 120 countries.
Medentech are also the world's number 1 manufacturer of hospital surface infection control tablets.
Paragon Partners is a Munich based equity fund who recently successfully closed their latest fund at €412 million Euro equity. Paragon have a significant track record in mid-sized company acquisitions, with an emphasis on post purchase growth including add-on acquisitions.
Michael Gately of Medentech stated that "All the Medentech team are absolutely delighted with the new ownership. The company have ambitious development plans, with additional bolt-on investment opportunities already being negotiated.".
Web sites

Further information from,
Michael Gately
Medentech
mgately(at)medentech(dot)com
+353 53 91 60040