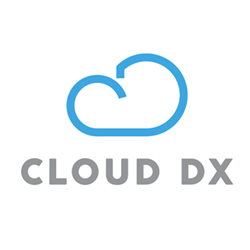 Cloud DX, a finalist for the $10 million Qualcomm Tricorder XPRIZE, today announced that they will unveil a prototype medical Tricorder device at 2015 SXSW Interactive Festival
Austin, Texas (PRWEB) March 16, 2015
Cloud DX, a finalist for the $10 million Qualcomm Tricorder XPRIZE, today announced that they will unveil a prototype medical Tricorder device at 2015 SXSW Interactive Festival. Based in Toronto, Canada, Cloud DX is one of 10 finalist teams competing for the Qualcomm Tricorder XPRIZE, a global competition sponsored by the Qualcomm Foundation challenging teams to develop a consumer-focused, mobile device capable of diagnosing and interpreting a set of 15 medical conditions and capturing five vital health metrics. Launched in January 2012, the competition encourages the development of a device much like the medical Tricorder of Star Trek® fame, moving it from science fiction to science reality.
Robert Kaul, president & CEO of Cloud DX, will join Grant Campany, senior director for the Qualcomm Tricorder XPRIZE, for a session entitled, "Science Fiction Becoming a Reality," on Monday, March 16 from 9:30AM – 10:30AM CST at the JW Marriott Austin, Room 211-212.
For details, visit http://schedule.sxsw.com/2015/events/event_IAP40266.
"In the Star Trek series, Captain Kirk talks to his crew via a communicator, has his medical officers assess conditions through a handheld Tricorder and synthesizes food and physical goods using his replicator. This, of course, is science fiction, however, in some cases it is becoming science reality," said Robert Kaul. "The $10M Qualcomm Tricorder XPRIZE is a perfect example of this innovation coming to life, and we're thrilled to showcase our Tricorder device for the first time at SXSW Interactive."
Robert Kaul will speak about the emergence of real technology from science fiction stories and describe what it is like to help lead a team truly turning imagination into reality. Along the way, he will demonstrate some of the features of the Cloud DX Tricorder, code-named "VITALITI™," including the continuous vital sign monitor, designed to be worn for 72 hours straight and continually stream data on blood pressure, respiration, electrocardiogram (ECG), pulse rate, blood oxygen saturation and core body temperature, all stored via the cloud.
For more information on Cloud DX, visit http://www.clouddx.com. For more information on the Qualcomm Tricorder XPRIZE, visit http://tricorder.xprize.org/.
About Cloud DX Inc.
Cloud DX Inc. was founded to develop and commercialize a set of technologies collectively called Cloud Diagnostics®. Cloud DX manufactures the FDA-cleared Pulsewave® Health Monitor, a virtual medical device that records a pulse wave signal from the wrist, uploads it to the cloud and derives medically accurate biological readings that can be securely accessed from any browser. Our next-generation VITALITI™ platform is an advanced set of health monitors including a wearable necklace that continuously records movement, blood pressure ECG, pulse oximetry, temperature, respiration and pulse rate. In August 2014, Cloud DX was chosen as a finalist for the $10M Qualcomm Tricorder XPRIZE. For more information, visit http://www.clouddx.com.
About XPRIZE
Founded in 1995, XPRIZE is the leading organization solving the world's Grand Challenges by creating and managing large-scale, high-profile, incentivized prizes in five areas: Learning; Exploration; Energy & Environment; Global Development; and Life Sciences. Active prizes include the $30M Google Lunar XPRIZE, the $15M Global Learning XPRIZE, the $10M Qualcomm Tricorder XPRIZE and the $2M Wendy Schmidt Ocean Health XPRIZE. For more information, visit http://www.xprize.org.
Qualcomm is a trademark of Qualcomm Incorporated, registered in the United States and other countries.
STAR TREK, TRICORDER and related marks and logos are trademarks of CBS Studios Inc. Used under license.