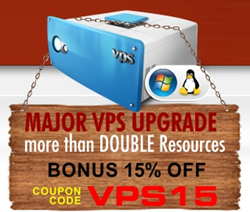 We are extremely delighted to introduce our upgraded VPS hosting services with resources such as Dedicated CPU, Double RAM and Triple Bandwidth, for all our customers.
London, United Kingdom (PRWEB UK) 23 March 2015
WebHost.Uk.Net, leader in managed web hosting, managed Virtual Private Server (VPS) hosting, managed cloud servers, and managed dedicated server hosting, announced today major upgrades to their Virtual Private Server (VPS) plans. Every WebHostUk Ltd customer, both existing and new, can now take advantage of these best-of-breed VPS hosting plans at no extra cost.
The impressive upgrade now include VPS deployed with resources such as Dedicated CPU's, Double RAM and Triple Bandwidth, high performance SSD Drives, Cloud Virtualization powered with Citrix XenServer, user friendly control panel to fully manage your vps and tons of other new features.
All VPS (virtual private server) plans include Free Cpanel, One click app-installers and fully managed services; all backed up with 24x7 highly professional and friendly technical support.
"We are extremely delighted to introduce our upgraded VPS hosting services with resources such as Dedicated CPU, Double RAM and Triple Bandwidth, for all our customers" says Abbie Clayton, Head of Business Development, Webhostuk Limited. "We understand the need to stay competitive by introducing latest and advanced technology for our customers. While continuing to offer premium web hosting services, we leveled-up all our VPS Hosting servers with improved hardware resources and advanced Cloud Virtualization, which will now allow our customers to take their business to the next level."
Managed Virtual Private Server (VPS) hosting plans let customers enjoy the power and control of dedicated servers, with the affordability of shared hosting. Each customer account can utilize dedicated resources in a completely virtualized operating system that is extremely stable, reliable, and secure. For many businesses, their continued growth and development depends on having hardware resources that can meet their new objectives. To help existing customers realize their long-term goals, Webhost.Uk.Net is now upgrading all VPS hosting plans to offer dedicated CPU, Double RAM and triple bandwidth transfer, with no change to pricing.
E-commerce business websites, Web designers, developers, smaller creative agencies and many such customers will now experience high reliability, fully managed, setup/management consistency, and easy to use & deploy servers with the upgraded VPS plans.
Started in the year 2003, WebhostUK LTD has been emerging as the leader in UK Web Hosting industry, with more than 200k customer websites hosted on their network. The company truly believes in offering their customers the best specifications, with the best service, for the lowest price.
"That is what we have been doing..! Offering the best at most affordable prices which is the reason, why so many businesses have made their move to WebhostUK managed VPS hosting solutions," says Clayton. "At the end of the day, when our customer smiles and recommends us, their satisfaction makes everyone here are WebHost.Uk.net feel proud."
Lightning fast and exceptional customer service has defined Webhost.uk.net since the company was founded in 2003. Today, with the announcement of such generous upgrades to all managed VPS hosting plans, Webhost.Uk.net is set to continue its remarkable passion for its current hosting customers, while looking towards attracting new clients and new businesses. Customers interested in learning more about WebHostUK Ltd and their range of managed VPS hosting services are encouraged to visit https://www.webhost.uk.net/linuxvps.html
About WebHostUK:
WebHostUK is a leading UK Web Hosting Provider since 2003 that offers extensive range of services such as Domain Name Registrations, Shared hosting plans, Reseller hosting plans, Ecommerce solutions, VPS Hosting, Cloud Hosting, Fully Managed Dedicated Servers & SSL certificates along with lightning fast 24/7 technical support.