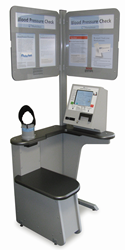 This clinical evidence places pharmacies utilizing PharmaSmart® in a stronger position to engage in collaborative practice agreements with regional providers and ACO's.
Rochester, NY (PRWEB) March 18, 2015
PharmaSmart® International Inc., an Inc 5000 and Rochester, NY Top 100 company, announced today that it will deploy its clinically validated Blood Pressure Kiosk and cloud based Health IT platform in Brookshire Grocery Company's 116 stores with a pharmacy. This includes Brookshire's, Super 1 Foods and FRESH by Brookshire's locations in Texas, Louisiana and Arkansas. All kiosks will be manufactured and distributed out of PharmaSmart's Rochester, NY manufacturing facility.
The recent BGC deployment follows a string of important announcements for PharmaSmart®. Most notably, published, independent clinical trial results (Journal of American Society of Hypertension, December 2014) found PharmaSmart® blood pressure readings comparable to daytime ambulatory monitor results - the "Gold-Standard" for diagnosing and managing hypertension.
This clinical evidence places pharmacies utilizing PharmaSmart® in a stronger position to engage in collaborative practice agreements with regional providers and ACO's. BGC also intends to leverage PharmaSmart's clinical grade program to support Medicare Star Ratings objectives, specifically measures D-14 (Medication Adherence for Hypertension), and C-19 (Controlling Blood Pressure), both of which are triple weighted measures of high interest to national and regional insurers.
"In this era of personalized medicine, the role of the pharmacy continues to evolve," said Jim Cousineau, SVP Pharmacy Operations at BGC. "The PharmaSmart® kiosk technology and its PS DataSmart® data portal will ensure our pharmacists can help our customers to better control their blood pressure. As the CDC has pointed out, controlling blood pressure is the single most important thing Americans can do to improve their health outcomes."
PharmaSmart® Chief Operations Officer, Ashton Maaraba states, "In the US, 65% of all diagnosed cases of hypertension are not under control. We are thrilled that we will be working with BGC pharmacists to target and treat uncontrolled hypertension. We are looking forward to working closely with the BGC family of pharmacists as they continue to demonstrate excellence in both their pharmacy operations and innovative clinical services."
About Brookshire Grocery
Brookshire Grocery Co. operates 151 stores in three states -- Texas, Louisiana and Arkansas -- with three distribution centers and five manufacturing facilities. Known for friendly service, clean stores and strong community support, BGC has been in operation since 1928. BGC's mission is to provide a great food and shopping experience.
http://www.brookshires.com | http://www.super1foods.com | http://www.freshbybrookshires.com
About PharmaSmart®
PharmaSmart®, headquartered in Rochester, NY, USA, currently serves more than 6,500 locations, including retail pharmacies such as Brookshire Grocery Company, Kinney Drugs, Bartell Drugs, Coborns, Nash Finch, Roundy's, Associated Food Stores, Leader, Good Neighbor, Astrup Drug, Winn Dixie, Big Y Foods, Harmons Grocery, Wal-Mart Canada, Safeway Canada, Loblaw's, Le Groupe Jean Coutu, Shoppers Drug Mart, Rexall/Katz Group, Zellers, Sobey's Lawton's, and other fine pharmacies. PharmaSmart® also serves major worksites, military bases, University Schools of Pharmacy, hospitals and medical clinics.
PharmaSmart's PS Data Smart® Health IT database currently holds more than (30) million targeted patient BP readings. For more information visit the company's website at http://www.PharmaSmart.com or contact corporate communications Shauna Delahanty-Thomas at (800) 781-0323x338.