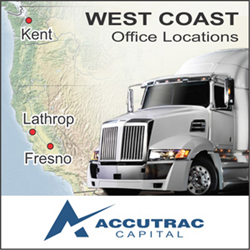 "We are very excited to welcome Sound Funding and all their customers." said Charles Sheppard, President of Accutrac Capital, Inc, "This is a great opportunity to strengthen our market presence throughout the West Coast region."
Fresno, CA (PRWEB) March 31, 2015
Accutrac Capital, Inc, a California based Invoice Factoring Company is proud to announce the recent acquisition of the portfolio of Sound Funding Group in Kent, Washington. This union expands the footprint of Accutrac Capital, Inc which currently has two office locations in California (Fresno and Lathrop). With the addition of this third office in Washington State, Accutrac Capital, Inc is better positioned to service the financing needs of its trucking clients on the West Coast.
Operating as a privately owned company, Sound Funding Group ("Sound Funding") has helped trucking companies with invoice factoring services since 2005. Needing to expand operations and widen its product offering, Sound Funding has joined forces with Accutrac Capital, Inc who will provide ongoing financing and back office support.
"We are very excited to welcome Sound Funding and all their customers." said Charles Sheppard, President of Accutrac Capital, Inc, "This is a great opportunity to strengthen our market presence throughout the West Coast region."
This transaction has allowed Sound Funding to deliver a greater level of service and additional value to all its customers. Clients now have access to multiple invoice factoring products at the industry's lowest rates. Further, they can benefit with huge savings on the cost of fuel. Accutrac Capital's Discount Fuel Cards provide significant discounts on fuel at major truck stops across USA & Canada. 24/7 access to an online account management system provides full transparency, allowing clients to monitor accounts and access reports. A dedicated Accounts Manager is assigned to work with each client to ensure ease of funding and professional accounts receivable management.
About Accutrac Capital, Inc: Accutrac Capital, Inc is part of the Accutrac Capital Group of Companies, one of North America's leading invoice factoring companies specializing in the trucking Industry. The US division of Accutrac Capital, Inc is headquartered out of Fresno, California with a branch office in Lathrop, California and now in Kent, Washington. Accutrac Capital, Inc's Canadian division is headquartered in Ontario, Canada.
Accutrac Capital, Inc offers Invoice Factoring, Equipment Financing, Discount Fuel Cards and other cost saving services to trucking companies across North America. Accutrac Capital, Inc's industry leading invoice factoring services are designed to be cost effective, easy to manage and convenient to use. Favored by trucking companies seeking to lower the cost of fuel, Accutrac Capital, Inc's Discount Fuel Card program features no transaction fees on fuel purchases and credit terms to qualified trucking companies. Freight carriers throughout the US and Canada depend on Accutrac Capital, Inc's low rates and professional services to keep their cash flow healthy.
For more information about Invoice Factoring, Equipment Financing, and Discount Fuel Cards to maximize your working capital and profitability, contact Accutrac Capital, Inc at http://www.AccutracCapital.com