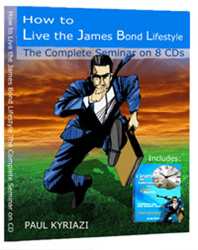 When others fold under pressure, James Bond focuses, calls up his talent at will, and delivers on a deadline.
(PRWEB) April 07, 2015
Today, Paul Kyriazi announces a new marketing campaign for his book "How to Live the James Bond Lifestyle" in celebration of the upcoming film "SPECTRE," the 24th James Bond movie from Eon Productions. The self-help book is available in ebook format on Amazon and as an audiobook course through http://www.bondlife.com.
"The James Bond Lifestyle won't make you James Bond, but it will help you discover your individuality so that you can be yourself and get your piece of an adventurous, productive and fun lifestyle," Kyriazi said. "When things get tough, don't fold like regular people, focus like Bond. In a tough situation, ask yourself, 'What would James Bond do?' The right answer will come back: Bond would call up his talent at will and deliver on a deadline, like he did at Fort Knox in 'Goldfinger.'"
Originally released in 1998, How to Live the James Bond Lifestyle was taught at Spyfest and the Learning Annex. In 2012, Kyriazi updated and expanded the book. The new edition reflects the changes in the Q Branch-esque technological advancements of the past 17 years as well as the resurrection of the Bond lifestyle introduced by the Daniel Craig era.
Kyriazi has identified 21 rules for living like Bond:
1) I never run out of cash.
2) I accomplish, learn, give and enjoy something every day.
3) My base of operations is always clean and organized.
4) For challenges, I improvise, adapt and overcome.
5) I dress up even alone at home.
6) I eat vegetables and fruit, drink water, exercise and sleep.
7) I carry enough cash and credit to operate efficiently.
8) I chose my contacts carefully and avoid villains.
9) I never give up, but I can change direction.
10) I'm not afraid to pay for what I want.
11) I get good value for my time and money.
12) I circulate all things good; the bad stops with me.
13) Everyone I meet benefits from the experience.
14) I am always early for meetings.
15) I edit out negative verbalizations.
16) On the job, I am always professional.
17) I am constantly learning by reading one book a week.
18) I tip freely.
19) My car is clean, filled up and ready to go.
20) I rent what I need and take mental possession of it.
21) I never run out of cash.
While each rule is meant to motivate the reader into taking control of his or her life like James Bond, Kyriazi's focus is on the techniques necessary to make these change happen.
To demonstrate rule three, he draws inspiration from Bond's office, seen briefly in "On Her Majesty's Secret Service," and teaches readers to keep their working space clean and treat it like a base of operations. He then details the tools necessary for a Bond's base to succeed and explains how to implement them as effectively as any gadget to come out of Q Branch.
For more information on the James Bond Lifestyle, please visit http://www.bondlife.com/, or to learn about the author, see his website at http://www.paulkyriazi.com/. To purchase and view a preview of the Kindle version of How to Live the James Bond Lifestyle, go to Amazon.com.
About Paul Kyriazi
James Bond fan and expert, Paul Kyriazi is the author of "How to Live the James Bond Lifestyle." He has taught the course at Spyfest and the Learning Annex. In addition to teaching and writing, Kyriazi has written/directed six feature films, directing 22 movie stars in his films and full-cast audio-novels.