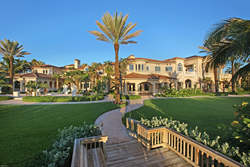 This house could be a museum, but we chose to make it a comfortable place to live. We recently hosted a wedding party for 100 people, and the house never felt crowded. - Charles Russell, homeowner
(PRWEB) April 07, 2015
One of the largest and most architecturally-impressive residences on Florida's Atlantic Coast is scheduled for the auction block April 25th in a rare absolute auction in which the top bid must be accepted regardless of dollar value.
"Somebody is going to buy this magnificent home," said Patrick Stracuzzi, the listing broker at Patrick Stracuzzi Real Estate Team at RE/MAX of Stuart. "There is no minimum at an absolute auction. It's an extraordinary opportunity for the right buyer." Stracuzzi is listing the 10 bedroom Italianate mansion that sits atop nearly two acres of oceanfront property. "Of course, I expect reasonable bids from serious buyers."
Known as Il Santuario – The Sanctuary – the approximately 22,000 square-foot estate is among the most luxurious homes in Sailfish Point, the high-security private community located at Hutchinson Island's southern tip. Designed by Candido Quintana of C.Q. Architecture in Coral Gables for James and Judy Rose in 1999, the two-story home features a mosaic marble floor front entry; rare large-slab Italian marble artistically installed throughout the house; a formal living room with a floor-to-ceiling wood mantle, electric fireplace and pool view; unimpeded views of 280 feet of ocean frontage; and a magisterial marble staircase with carved wood railing and wrought iron design. Detailed, hand-painted ceiling frescos recall Rome's Sistine Chapel.
The home also includes a 12-seat, state-of-the-art surround-sound theatre with 120-inch screen, and a landscaped courtyard stream stocked with over 100 Koi and spectacular waterfalls. A full chef's kitchen stocked with top-of-the-line Viking and Subzero appliances, abundant storage space, huge pantry and counter seating. In addition to multiple Schonbek chandeliers, many of the rooms feature wallpaper and coverings from Peter Frey of Paris. Each room features different wallpaper designs, often bearing nautical themes.
"This house could be a museum, but we chose to make it a comfortable place to live," said Charles Russell, who with his wife Peggy bought the property in 2012. "We recently hosted a wedding party for 100 people, and the house never felt crowded."
Sailfish Point's unique location, directly on the Atlantic Ocean and St. Lucie Inlet, makes it a community like no other. Six miles of pristine shoreline, an oceanfront Jack Nicklaus "Signature" golf course, elegant beachfront country club with unrestricted tee times and a private helipad make it among Florida's most sought-after addresses.
Jim Gall of Auction Company of America will conduct the auction. The property can be previewed online at http://www.stracuzzi.com/il-santuario or http://www.auctioncompanyofamerica.com/. Potential buyers interested in arranging pre-auction viewing can contact Patrick Stracuzzi at 772.486.7856.