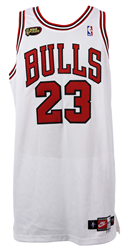 When the bidding ends on Saturday, April 4th, 2105, it is predicted this shirt will be the most valuable Michael Jordan item to have ever hit the market.
South Milwaukee, WI (PRWEB) April 03, 2015
Judged by many collectors to be the most important Michael Jordan jersey to have ever entered the market, MEARS Auctions is featuring the actual shirt he wore during the 1998 NBA Finals. Worn in game 3, the shirt has been photographically matched to the game and originated from the Chicago area.
http://sports.mearsonlineauctions.com/LotDetail.aspx?inventoryid=87082
The Bulls won their 6th Worlds Championship during 1998 and Michael Jordan was named the Finals MVP. This is the first and only NBA Finals jersey worn by Michael Jordan to have entered the hobby. When the bidding ends on Saturday, April 4th, 2105, it is predicted this shirt will be the most valuable Michael Jordan item to have ever hit the market. Current bidding is at $29,834. Interested bidders may register on line. Questions may be direct to MEARS Auctions President / CEO at (414)-828-9990 or email troy(at)mearsonline(dot)com