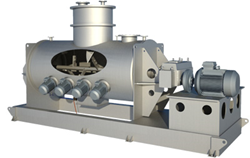 After the test, Vortex made the conclusion that the high speed plough shovel can fully and totally lift the material and form fluidizing action, meantime high speed choppers can break the agglomerates.
(PRWEB) April 10, 2015
Vortex, a leading powder mixer manufacturer based in Shanghai and Zhengzhou, China, ran a series of tests to successfully create a better coating device for their ploughshare mixer in response to a client's request. TThe request was from a client that runs a fireproof material company and needed a mixer with a liquid spraying function that fully coats powdered material with a liquid. Vortex began working on ways to customize their products to meet the client's demand.
Their engineers started the coating test by putting 25 kg of white fine powder material into the vessel drum. After starting the mixer, they slowly added oil into the mixer spray by pump. As the volume for each batch had to be lower than 15 to 20 liters, the oil needed to be slowly sprayed via a spray device. When the oil spray was finished, the ploughshare mixer continued to run about 10 minutes to fully coat the oil on the powders. Finally the engineers put another 10 kg powder into the mixer to make the final mixing. After the test, Vortex's engineers made the conclusion that the high speed of the plow shovel enabled the mixer to fully lift the material and form fluidizing action. Meanwhile, the high speed choppers broke the agglomerates. It was concluded that the coating test was successful.
Successful testing of the product led to a great customer experience and the client decided to purchase a 2000 L volume ploughshare mixer for their product line. Vortex tailor made the manual dumping station for them as well. The oil adding mechanism was well controlled by a programmable logic controller or PLC and with a 140 rpm shaft speed and 3000 rpm choppers speed, the ploughshare mixer was ready for use. The mixer took 2 months to finish and another one month for shipping and delivery. Due to the client's satisfaction with the performance of the Vortex ploughshare mixer, they plan to develop more plants in Indonesia and China in the near future.
About Vortex
Vortex is a leading powder mixer manufacturer in Asia based in Shanghai and Zhengzhou, China. Founded in 2000, the company has grown from a small workshop to a group company with 150 people and 500 sets mixers output capacity per year. They rely on long-standing relationships and aim to live up to their own exacting standards of expertise and experience in all fields of bulk material handling and processing. Diligent design, precision fabrication, and continuous innovation make Vortex the first choice by end customers. Furthermore, they also have a close relationship with Europe mixer partners to communicate technology and perform R&D work together to present smart mixer machinery to customers.