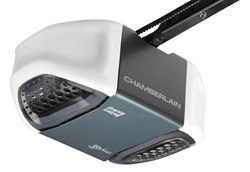 Elmhurst, Ill. (PRWEB) May 04, 2015
Chamberlain, makers of the most advanced garage door openers for more than 40 years, brings the highest levels of security, peace of mind and convenience to consumers with the first Wi-Fi® connected garage door opener on the market. The new Chamberlain Wi-Fi Garage Door Opener with MyQ Smartphone Control is the first opener with Wi-Fi built in, requiring just a home Wi-Fi connection and the free Chamberlain MyQ® Smartphone app.
The Chamberlain Wi-Fi Garage Door Opener empowers people with new levels of security and knowledge about home activity, such as when the garage door has opened or closed. The product also offers the power to control the door from anywhere—all from a smartphone. The new Wi-Fi Garage Door Opener is available today at participating retailers nationwide, with suggested retail prices starting at $248. The new opener will be featured on the new PBS series "Next Home" this spring and will support Apple HomeKit this year.
Confidence Comes from a Connected Garage
The Chamberlain Wi-Fi Garage Door Opener delivers confidence through advanced security features and real-time insights into home activity, such as knowing when family members have left the house, that kids arrived home safely from school, or that the garage is closed and the home is secure. With Apple HomeKit support this year, iPhone, iPad and iPod touch users can use voice commands such as "Siri, close my garage door" to control their doors from anywhere.
"Garage door technology has come an impressively long way since many homeowners' doors were installed 10 or 15 years ago, and Chamberlain is leading the way in bringing these advances into the home," said Kenny Ramsey, Vice President of Marketing at Chamberlain. "Wi-Fi built into the garage door opener creates a highly intelligent device, and our advanced security technology and processes keep people safe and informed about what's happening with their home and family activity, wherever they are."
The Most Advanced Garage Door Opener

Built-In Wi-Fi – Connects directly to the home's Wi-Fi router and sets up in minutes using a smartphone—no additional hardware needed.
Smartphone Control and Alerts – Ensure the garage door is closed when it should be, open it from anywhere, and receive smartphone alerts for all garage door activity.
Smart Home Integration – Support for the leading connected home technologies, including Nest and Wink today, and Apple HomeKit, SmartThings and others this year.
Whisper Drive – Strong and durable steel reinforced belt ensures quiet operation.
Battery Backup1 – Built-in battery powers the opener even when power is out.
1 ¼ horsepower1 – Powerful DC motor is extremely durable, critical when the opener is often used as the primary entry point to the home.
HomeLink® Compatible – Works with the HomeLink buttons built into most cars.
Safety and Security Built In – Chamberlain applies its long history in safety and security to the new device, using the latest industry-standard encryption, advanced security techniques, and regular third-party security testing.
Do it Yourself Installation – Easy to install, with video and printed instructions.
Accessories in the Box – Includes outdoor wireless keypad, pre-programmed three-button remotes, and LCD wall control with motion-detection lights, and time and temperature display.
Pricing and Availability – Two models with ¾ and 1 ¼ horsepower are priced from $248 to $268, respectively, and available at participating retailers nationwide today.
For home owners with existing garage door openers, the Chamberlain MyQ Garage product can add Wi-Fi connectivity and smartphone control to nearly every brand of garage door opener built after 1993.
Profiled on New PBS Series "Next Home"
The new Chamberlain opener is the featured connected garage door opener on the new PBS series "Next Home." Airing nationwide beginning this May, "Next Home" profiles the smart home in a new light, with ideas for installation and daily use of the most respected, cutting-edge connected-home products on the market. Visit the Chamberlain website for details and links to "Next Home" segments available online.
For more information about Chamberlain products, visit http://www.Chamberlain.com.
About Chamberlain
Chamberlain manufactures and markets some of the most reliable and innovative do-it-yourself products for the garage and home. Chamberlain offers a full line of residential garage door openers and accessories as well as other cutting edge garage solutions. For more information on Chamberlain products, visit http://www.Chamberlain.com.
1 Available on select models.
# # #
Chamberlain®, MyQ® and MyQ Garage™ are trademarks licensed by The Chamberlain Group, Inc.