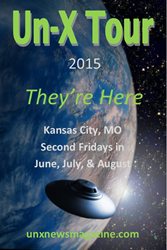 Three speakers will reveal information about real other-worldly contact on Earth
Kansas City, Missouri (PRWEB) May 18, 2015
Un-X News Magazine hosts the Un-X Tour 2015 in which a Hollywood film producer, a doctor, and a researcher will present evidence for other-worldly involvement on our planet.
On June 12 Craig Campobasso, a Hollywood film producer and creator of the short film "Stranger at the Pentagon," winner of the best Sci-Fi sort film at the Burbank International Film Festival in 2014, will present a lecture and show the film which covers the Pentagon visit in 1957-1960 by Valiant Thor. Craig will discuss the amazing story of Thor's contact with Dr. Frank Stranges, President Eisenhower, and top Pentagon officials.
Physician Lynne Kitei, M.D., producer of the internationally award winning Phoenix Lights documentary based on her best-selling book, The Phoenix Lights: A Skeptic's Discovery That We Are Not Alone," will present "Beyond the Phoenix Lights" on July 10. Dr. Kitei will discuss the Phoenix Lights incident and the different methods that different types of beings use to contact humans on Earth as well as the connection between all unexplained phenomena.
On August 14 Michael Horn, the media representative for UFO contactee Billy Meier Billy Meier and producer of the film "And Did They Listen?" will present "The Billy Meier UFO Case: The Real Reason for the UFO Cover-up." Horn will show Meier's still ireproducible UFO photos and discuss Meier's amazingly accurate past predictions, his predictions for our future and what he and the extraterrestrials advise for our future survival.
Each speaker will sign and sell books after their lectures.
The MC is Margie Kay, publisher of Un-X News Magazine and Assistant State Director for Missouri MUFON.
All of the events are held at Unity Temple on the Plaza, 707 W 47th Street, Kansas City, Missouri, and start at 7:00 p.m. Doors open at 6:30 p.m. Tickets may be purchased in advance at http://www.unxnewsmagazine.com for $25 each or for $30 at the door. Call 816-833-1602 Mon-Fri CST for more information.
Media are welcome but must register in advance.
Contact:
Margie Kay
816-833-1602
editor(at)unxnewsmagazine(dot)com