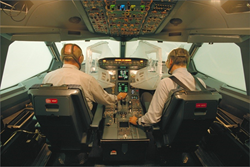 The future is here for EVAS training.
Kaneohe, Hawaii (PRWEB) May 19, 2015
The long standing training relationship between the Emergency Vision Assurance System EVAS and its training partner FlightSafety International has been enhanced with the offering of an online course.
The course is offered by FSI's eLearning division and is available for $125 at http://www.FlightSafety.com/elearning/evas.php
"The future is here for EVAS training", said VisionSafe Corp. VP, Jonathan Parker. "Our mutual customers will embrace this new option and we hope to bring our fleet airline customers to the FlightSafety International eLearning portal". VisionSafe feels this is a win-win for all.
About FlightSafety International:
At FlightSafety, the world's leading aviation training company, we work diligently to maintain and enhance our reputation for customer service and the industry's best, most comprehensive safety training. We deliver more than a million hours of professional instruction each year, training more pilots than any other company and always to the highest standards. Thousands of pilots train to proficiency with us at 40 Learning Centers and training locations in the United States, Australia, Brazil, Canada, China, France, Japan, South Africa, the Netherlands, and the United Kingdom.
We train pilots for all aircraft types – fixed-wing, rotorcraft and tilt-rotor. Whether you fly commercial, corporate, private or military, we have a training program to keep you proficient and safe.
About EVAS:
The patented Emergency Vision Assurance System (EVAS) is fully FAA tested and certified to ensure pilot vision in the presence of dense continuous smoke. With EVAS, pilots are able to see the flight path and vital instruments as well as read approach plates and emergency procedures. The ability to perform these functions in an environment of continuous smoke will make a critical difference to safety
EVAS - winner of the Aerospace Industry Award for Safety, with over 80 FAA and global certifications – has earned acceptance in every segment of aviation. The alarming rate of smoke incidents has been addressed by more than 600 operators, including the US military, FAA, airlines, and corporate flight departments. All have done so using the more than 3000 EVAS systems delivered by VisionSafe.
Contact Us:
Jonathan Parker
VisionSafe Corporation
jparker(at)visionsafe(dot)com
Phone 973 864 6206
Twitter: @VisionSafeCorp
Facebook: facebook.com/VisionSafeCorporation