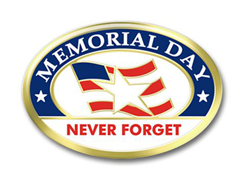 Any nation that does not honor its heroes will not long endure.
Brooklyn, New York (PRWEB) May 21, 2015
The Memorial Day Foundation invites everyone to remember America's heroes this coming Monday, May 25th. The Memorial Day Foundation is a non-profit organization that increases awareness and respect for America's dead with their beautifully designed "Thank You" bouquets and other patriotic memorabilia. Their bouquets embrace a tradition of red flowers (to symbolize the blood that was shed for freedom) that dates back to the Civil War. The Foundation assembles and delivers these bouquets to eight different war memorials in New York City on Monday Memorial Day. They ask for a $15.00 donation per bouquet.
The bouquet itself contains red silk roses held by a red, white and blue floral sleeve that is specially designed to evoke past Memorial Days. The package includes a brief history Memorial Day, a moving poem and an optional personalized tribute card. The Memorial Day Foundations' bouquets are meant to take Memorial Day back to its roots, back to when it was referred to as Decoration Day, a term born from the idea of honoring the dead with red flowers. From the first Memorial Day in 1866 to end of World War I, Americans traditionally placed flowers on the graves of Civil War veterans on May 30th.
Abraham Lincoln famously said, "Any nation that does not honor its heroes will not long endure." Memorial Day Foundation creators and Vietnam veterans, Paul D'Elia and James Bruno, uphold Lincoln's declaration. The Foundation was established in 2004 when the creators noticed that the Memorial Day Poppy was disappearing from the public's frame of reference. Invented by Moina Michaels after World War I, the Poppy symbolized the blood of the dead for decades. It was worn by millions of Americans both after World War I and especially after World War II. By 2004, most Americans did not know what it was or meant. Many Americans confused Memorial Day with the beginning of summer or a department store sale. In an effort to reverse this trend and increase awareness and respect for Memorial Day, the foundation was created to foster public displays of remembrance.
John Hamre, a representative of the organization says, "The public should refrain from using the term, 'Have a Happy Memorial Day', as it is a national day of mourning and the only federal holiday in which the flag flies at half-staff until noon. A better term would be, 'Have a Memorable Memorial Day', as it is a day worth remembering."
To donate to this organization or participate in the upcoming Memorial Day reminiscing, please visit: http://www.memorialdayfoundation.org/categories-listing/category/listing.html
About The Memorial Day Foundation:
The Memorial Day Foundation's mission is to increase awareness and respect for Memorial Day. They fulfill their mission by involving the public in historical and traditional ways of remembering Memorial Day. The Memorial Day Foundation is a 501 (c) (3) tax exempt not for profit organization and all donations are tax deductible. The Foundation has no paid positions and relies on volunteers, donors and gratuitous services.