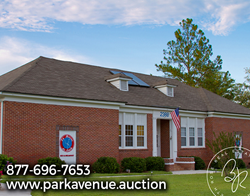 "As soon as we saw the property we fell in love," says Setboun of when they first spotted the old schoolhouse seven years ago.
Alford, FL (PRWEB) May 27, 2015
Beth Rose Real Estate and Auctions announces the auction of world class Bed and Breakfast La Maison de Lucy located at 2388 Park Ave., just off U.S. Highway 231. Owners, Charles and Lucy Setboun, have supported their son, Michael Setboun, to fulfill his dreams of transforming the old Alford Schoolhouse into Jackson County's best-kept secret.
Visitors from near and far have come to La Maison de Lucy where they have experienced Greece, Morocco, India, China, France, Ireland, Kenya, Jamaica, and Italy, without ever leaving the United States. "As soon as we saw the property we fell in love," says Setboun of when they first spotted the old schoolhouse seven years ago. "Countless former students of the school have come back to tour the property and stay in some of their old classrooms."
"We were glad to be able to share our love for traveling by implementing the concept 'travel around the world at La Maison de Lucy'." Setboun brought his love for traveling to his guests by designing each of the twelve luxurious suites in the style of a different country – all of which the Setbouns have traveled. Every room has "travel guides, dvd's, music, and decor representing all the beautiful destinations."
The unique and upscale inn was known for their locally grown organic cuisine, and olive oil and wine weekends. Some of Setboun's greatest memories have been "inviting local producers of olive oil and wine producers from all over the world to come put on seminars for the guests. We were lucky enough to have a celebrity chef from New Orleans come to cook with us that weekend as well." Whether guests traveled for work or pleasure, the point was to enjoy La Maison de Lucy at their own pace.
Today, Setboun's family is growing and since Michael Setboun welcomed a new baby to the family he says that it's time for La Maison de Lucy to carry on new memories. Why have the Setbouns chosen to sell their bed and breakfast at auction? Setboun explains, "We believe this is the best way to broadcast this type of unique and luxurious property."
The bed and breakfast will be sold at absolute auction on Saturday, June 13th at 11:00am. Prospective buyers may tour the property Sunday, May 31st and June 7th from 12:00pm – 3:00pm.
For more information about La Maison de Lucy or details about purchasing the property at auction, call 877-696-7653 or visit http://www.parkavenue.auction.
About Beth Rose Real Estate and Auctions
Beth Rose Real Estate and Auctions continues to be the leader is real estate auctions throughout the Midwest and Florida. Through aggressive promotion and a transparent and competitive selling process, Beth Rose Auctions has dominated the industry for over four decades. Selling luxury real estate, golf courses, and commercial assets, they have risen to the top of their field. As national leaders and influencers for the auction industry, Beth Rose Auctions continues to drive the future of the foremost method of marketing and selling real estate. More information about Beth Rose Real Estate and Auctions can be found by visiting http://bethroseauction.com.