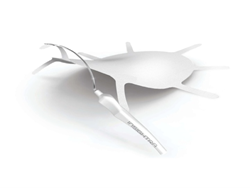 The system simplifies and standardizes the well-recognized sublay and retro-rectus approach to ventral hernias.
(PRWEB) May 28, 2015
Insightra Medical, Inc., a leader in the field of fixation-free hernia repair, announced that FDA cleared its ventral hernia system for use in the United States. Octomesh™ carries on the commitment of Insightra to provide products that seek to reduce the amount of postoperative pain that hernia patients are known to experience.
The Freedom Octomesh™ Ventral Hernia System is a unique kit, consisting of a strap passer tool and the revolutionary Octomesh™ implant. The system negates the need for slow, time-consuming suture fixation of sublay and pre-peritoneal hernia implants used in the treatment of ventral hernia.
"The system simplifies and standardizes the well-recognized sublay and retro-rectus approach to ventral hernias," says Oliver Pokk – Sr. Dir. Global Marketing at Insightra. "It has been used for years outside the USA. A five-year follow-up of 41 of the first 65 patients (mean 36 months, range of 12-72 months) has shown no recurrences and 37 patients have been completely pain-free, the others having only very little to some pain(1). Insightra is pleased to bring this proven technology to the United States."
The system has been cited in several medical journals and successful results have been presented at many international hernia meetings – including the recent 1st World Hernia Conference in Milan, Italy. Professor Giampiero Campanelli, President of this conference, and originator of an Octomesh™ implantation video sees one main benefit in that "it offers surgeons who are used to fixating common flat-sheet mesh with an easier, faster and reproducible way to position the mesh for ventral hernia. In fact, the presence of the straps facilitates the procedure and self-fixation of the implant, with great stability and a wrinkle-free placement."
The unique Octomesh™ implant has eight, integrated radiating arms that are tunnelled through the abdominal muscles using a specifically designed strap passing system. The straps act to hold the implant in place without the need for sutures or hernia tackers – often thought to be one of the causes of post-operative pain.
Professor Sergio Roll, former President of the Americas Hernia Society (AHS) and the first adopter of this hernia repair system in Latin America, appreciates that "Octomesh's ease of use will help broaden the adoption within the AHS of open ventral hernia repair's gold standard, the Rives-Stoppa technique." Professor Karl LeBlanc, of Baton Rouge, LA is looking forward to start using this "new concept in open repair of ventral and incisional hernias. Based upon the results that have been seen in other parts of the world, I expect surgeons, and more importantly, their patients will be pleased that this product has now become available in the United States."
As a supporter of the Americas Hernia Society Quality Collaborative (AHSQC), Insightra will be encouraging all users to enter their data and experience into this registry to assist with continuous quality improvements. The device will be available later this year in five implant sizes and surgeons will have the opportunity to attend professional education courses.
About Insightra Medical
Insightra Medical Inc. designs, develops, and markets a new generation of medical devices serving the hernia and general surgery market. As a fast growing hernia device company with a dedicated hernia sales force in the United States, Insightra Medical is focused on improving patient outcomes such as reducing post operative pain. For more information on Insightra Medical, please visit us at http://www.Insightra.com.
Contacts
Insightra Medical Inc.
Oliver H. Pokk, +1-262-729-7473
(1) Data on file Insightra Medical Inc.