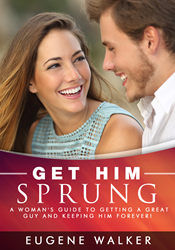 Whether you're single and searching for Mr. Right or in a relationship looking to rekindle the fire, this easy-to-follow guide will teach you how to get the guy and make him stay, with sparks flying the whole way.
Dallas, Texas (PRWEB) July 02, 2015
For many women, finding Mr. Right and getting him to commit has become a thing of the past.
Why? According to Eugene "It's because men nowadays have concluded that the rewards of commitment and marriage are just not worth it anymore.
Eugene says "70% of American men between the ages of 20-34 have chosen to live in a state of "perpetual adolescence".
In a recent interview Eugene Walker comments "After feeling browbeating and beat up by society and decades of feminism, many men have taken it upon themselves to set their own parameters for an intimate relationship."
And sadly, this fact has resulted in millions of women remaining single and never getting that long lasting relationship they've dreamed about.
Ultimately, men have waken up to the fact that they can lose their respect, their space, their friends, their sex life, their money, and - if the relationship really goes south - their children too.
So what seems to be the problem these days with love, dating, & romance? Better yet, what can be done to turn it all around? Well, according to author Eugene Walker the problem lies with bad advice and stereotypes from the media.
Eugene says "Television and media have flooded the world with fantasies and unrealistic expectations of what love really is. The way a man loves a women (with his heart) is totally different from the way the media has presented it.
In "Get Him Sprung - A Woman's Guide to Getting a Great Guy and Keeping Him Forever" Eugene shows women exactly what they can do to turn these tables around.
Inspiring, direct, and thought-provoking, Get Him Sprung gives women the power to tap inside the hearts of men and understand their way of thinking.
Main Topics Range From:
The 8 Magic Words that Will Stop Him in His Tracks. Did you know that a man can tell within 1 year of meeting a woman if she's the one for him or not? In this chapter, Eugene teaches women 8 shocking words they can say to bring out a man's true feelings about the relationship. Tired of going years without knowing if your relationship is going anywhere? These 8 words will bring it all to a screeching halt.
How Long Should You Wait for a Proposal? Some men will string women along for years in a relationship (with no commitment intended). In this chapter, Eugene gives women insightful tips on simple things they can do to become so valuable in his eyes he couldn't live a day without you.
Identifying Toxic Men in Relationships. In this chapter Eugene identifies a few types of men that women may encounter as they go off into the dating world. Isn't it good to know what signs to watch out for when choosing a long term relationship?
How to Get a Man to Open Up His Heart and Talk About Anything. Most men are not very expressive about their feelings. Recognize that sometimes a man's thoughts are like water in a deep well. All you need is a bit of patience, confidence, and insight you can draw them all out. In this chapter Eugene teaches women how to bring out a man's deepest and inner most thoughts (in a way that gains his respect for you).
Why Men Love Confident & In-Control-Women - How This Can Work Out As a Benefit. Is the relationship out of control? In this chapter Eugene teaches women how to direct a situation, person or activity; to bring to the situation what is needed, whether it is a command, simple instruction or exercising restraint. Most men are attracted to a woman who can take charge or even hold herself in check.
Other Topics Include:

The Body Language of Men - How to Tell If He's Attracted to You
The 20 Things All Men Want and Desire
What a Man's Text Messages Really Mean
What to Do If A Man Has No Intent of Commitment
How to Get a Guy You Want to Pursue You in the Relationship
Link to BONUS (AUDIO BOOK) Included
and Much Much More…
From playing the dating game to establishing a long lasting relationship, Eugene's insightfulness, irreverence, and sometimes brutal honesty makes Get Him Sprung - A Woman's Guide to Getting a Great Guy and Keeping Him Forever a one-of-a-kind relationship handbook for every woman who wants to hook the guy she's been waiting for.
About the Author: Eugene Walker (born April 22, 1973) is an American author, family counselor, and psychologist. His works range from interpersonal relationships, marriage, family therapy, non-fiction, suspense, science fiction, and fantasy. His books have sold more than 2.5 million copies worldwide.
"Get Him Sprung - A Woman's Guide to Getting a Great Guy and Keeping Him Forever"
Published By BookBaby
ISBN: 9781483554723
Published: 05/03/2015
Available On Amazon at http://www.amazon.com/Get-Him-Sprung-Getting-Keeping-ebook/dp/B00YDR9YEY/ref=sr_1_1?ie=UTF8&qid=1435225590&sr=8-1&keywords=get+him+sprung
If you'd like more information about the book or would like to schedule an interview with Eugene, please contact him @ EWB Publishing 817-205-4656 or email him @ eugenewalkersbooks(at)gmail(dot)com