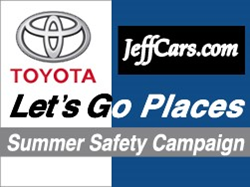 TORRANCE, Calif. (PRWEB) July 01, 2015
Summer is here! Vacation plans have been made, and families are packing up their vehicles for summer road trips. To help families get to their destinations without incident, automotive industry expert Jeff Fortson partners with Toyota to make summer travel safer.
Research shows 45 percent of Americans take summer vacations with 91 percent traveling in their personal vehicles, creating greater opportunity for more collisions. With millions of people hitting the road for the Fourth of July, Fortson reminds us that more than 37,000 people are fatally injured in road crashes each year and more than 1,600 of them are children under 15 years old.
As the editor of JeffCars.com, an educational car-buying guide for women and minorities, and an automotive industry contributing writer for Essence, Black Enterprise, Jet, AOL's BlackVoices.com and Ebony.com, Fortson notes vehicle crashes are the No. 1 cause of death for children and young adults ages 5 to 24. Only one in four child car seats in the U.S. is properly installed.
According to Fortson, seatbelt safety is a major way to prevent injury, particularly for children.
"Unfortunately, research shows African American and Hispanic children are
10 times less likely to be properly restrained in a vehicle," notes Fortson. "A quick visit to a local car seat inspection location, like a fire station or a neighborhood car dealership, will help ensure a safe ride for a child. That's the first thing any family should do before they hit the road."
In addition to child car seat safety, Fortson offers these simple automotive safety tips to dodge potential accidents and help keep all passengers safe on the road:

Pump your brakes. No, really. Give them a few pumps to check them out. Brake pads need to be examined and/or replaced when it takes longer than usual to stop or when there is excessive vibration with the brakes when attempting to stop.
Buckle up and practice seatbelt safety. To ensure seatbelt safety, the belt should lie across the upper thighs and be snug across the shoulder and chest. Check out more seatbelt safety tips for kids at http://buckleupforlife.org/.
Practice crash prevention. To avoid collisions, know your car's limits. Daytime driving and proper hand placement on the steering wheel can decrease the likelihood of collisions. Fortunately, many of today's vehicles are outfitted with advanced safety features. These may include a forward collision warning, automatic emergency braking, blind spot detection, lane keep assist, a back-up camera with rear cross-traffic alert and a radar enhanced cruise control system.
Avoid distracted driving. According to the National Safety Council, distracted driving is the No. 3 cause of fatalities on the road. Avoid multi-tasking acts like texting and talking on the phone, and you will increase the likelihood of a safe drive.
Take care of your tires. You wouldn't go for a run without the right pair of running shoes, so don't do any long distance travel without checking out the health of your tires. Properly inflated tires will also increase your miles per gallon (mpg). Newer cars are equipped with an electronic Tire Pressure System, which alerts the driver of 'low tire pressure' concerns.
o Rotate your tires every other oil change, which in many instances is every 6,000 miles. If you're using synthetic oil, it should be every 5,000 miles. Oil changes aren't performed until about 10,000 miles.
o Make sure your tires are properly inflated. Check your owner's manual or the label inside your car's doorframe for the proper pressure levels for your tires.
o Check your spare tire as often as you check the rest of your tires, and consider buying a tire inflator kit from your local parts store.
Don't leave your car too thirsty or too hot. Top off all important fluids before hitting the road. Have you changed your oil? Is your windshield washer fluid dispenser filled? The answer to questions like those should be "yes" before hitting the road. In addition, if you haven't fixed the AC, you probably should. Your passengers will thank you.
Carry your essentials. Cell phone and cell phone charger? Check. Car insurance and registration? Check. Bottled water? Check. Whether going across the street or across the country, make sure your car is packed with emergency essentials. Consider signing up for an emergency road assistance plan as well. Some cell phone plans allow you to add the service.
Safety is one of Toyota's top priorities. Through programs like Buckle Up For Life, Toyota's community-based passenger safety education program, the automotive manufacturer provides free child car seats to families in need. Among their family-friendly cars, like the Camry, Highlander, Avalon and Sienna, all come equipped with safety features like the STAR Safety System for children. In addition to the standard safety features, there are optional rear cross traffic alerts, pre collision systems, blind spot monitoring and back up camera. To learn more about how Toyota is keeping drivers safe, visit http://www.toyota.com/usa/safety/.
# # #
About JeffCars.com
JeffCars.com is owned and operated by Jeff Fortson, an Atlanta-based auto analyst. The site is the only educational car-buying clinic for women and minorities, and is housed within the Library of Congress. Fortson has more than 25 plus years of automotive retail and automotive corporate experience, including approximately eight years with the Chrysler Corporation, working with dealers in Iowa, Michigan, Wisconsin and Texas.
Over the years Fortson's automotive contributions and articles have appeared in such newspapers and magazines as the Washington Post, Black Enterprise, Essence, and Jet. He has also written for sites like BlackAmericanWeb.com, Ebony.com, Bet.com and AOL's BlackVoices.com. In 2009, Essence magazine recognized Fortson as being "A Top Guru for Sound Car-Buying Advice." Follow him Twitter/JeffCars or visit http://www.JeffCars.com.
About Toyota
Toyota, the world's top automaker and creator of the Prius and the Mirai fuel cell vehicle, is committed to building vehicles for the way people live through our Toyota, Lexus and Scion brands. Over the past 50 years, we've built more than 25 million cars and trucks in North America, where we operate 14 manufacturing plants (10 in the U.S.) and directly employ more than 42,000 people (more than 33,000 in the U.S.). Our 1,800 North American dealerships (1,500 in the U.S.) sold more than 2.67 million cars and trucks (more than 2.35 million in the U.S.) in 2014 – and about 80 percent of all Toyota vehicles sold over the past 20 years are still on the road today.
Toyota partners with philanthropic organizations across the country, with a focus on education, safety and the environment. As part of this commitment, we share the company's extensive know-how garnered from building great cars and trucks to help community organizations and other nonprofits expand their ability to do good. For more information about Toyota, visit http://www.toyotanewsroom.com.