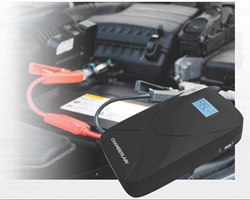 With the Chamberlain Automotive Jump Starter, you will not be left stranded - Bart Plaumann
Elmhurst, Ill. (PRWEB) July 14, 2015
Chamberlain Automotive™ delivers peace of mind to drivers with the launch of the new Portable Jump Starter, an ultra-compact vehicle jump starter that also powers mobile devices. The Jump Starter prevents drivers from being stranded by a dead battery, providing up to 20 jump starts on a single charge and eliminating the need for a second vehicle. The unique Jump Starter is available now at Target® stores, target.com and Amazon. The suggested retail price is $129.99.
Chamberlain Automotive has dramatically increased the utility of the Jump Starter by providing portable power to mobile devices. Featuring a premium-quality battery power-bank, the Jump Starter has two built-in 5V outputs—1 amp and 2.1 amp USB ports—enabling most cell phones, tablets, MP3 players, GPS devices and cameras to be charged on the road. The product also comes with a handy emergency flashlight for nighttime use. The versatile flashlight can be set to strobe and SOS flashing functions to gain attention and provide safety warnings to other drivers.
"A dead vehicle battery is never convenient. You might want to get to an appointment, to the airport or home to family. It could be dark, cold and raining. With the Chamberlain Automotive Jump Starter, you will not be left stranded," said Bart Plaumann, Chamberlain Automotive. "And that is not all, our Jump Starter can provide power to mobile devices whenever and wherever you are."
The Portable Jump Starter is extremely lightweight at just one pound, and its compact 3x5-inch footprint makes it easily storable in any glove box or car console. Smart features and accessories include:

Integrated LED emergency flashlight with SOS and strobe functions
Digital display that clearly indicates the charge level
Jumper cables, color coded for easy and safe use
12-volt vehicle charger
AC wall charger
For more information about Chamberlain Automotive products, visit http://bit.do/ChamberlainAuto.
About Chamberlain Automotive
Chamberlain Automotive is a business unit within The Chamberlain Group, focusing on development of advanced technology and care products for the automotive aftermarket. The Chamberlain Group manufactures and markets some of the most reliable and innovative do-it-yourself products for the garage and home. Chamberlain offers a full line of residential garage door openers and accessories as well as other cutting edge garage solutions. For more information on Chamberlain products, visit http://www.Chamberlain.com.
# # #
Chamberlain® is a trademark licensed by The Chamberlain Group, Inc.
Contact:
Samantha Steinwinder
Purdie Rogers
ssteinwinder(at)purdierogers(dot)com
206-713-6983