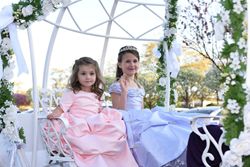 New York, NY (PRWEB) July 22, 2015
The charitable organization of Make-A-Wish® Suffolk County, NY, has honored NY Auto Giant and Atlantic Auto Group partner and owner Michael Brown for his continuing and generous philanthropic efforts. In a touching show of gratitude, Brown was 'knighted' at Princess Nikolina's Royal Ball, granting the leukemia patient her wish of becoming a princess. "I like princesses; they don't go to school, they ride horses, they tell the maid and butler what to do, they wear really long, beautiful dresses, they have really pretty beds with canopies and wear pretty blue gowns with light purple slippers and are served chicken nuggets on a golden platter," the seven year-old explained.
Michael's generous support, along with that of NY Auto Giant and Atlantic Auto Group, has helped fulfill the Make-A-Wish® foundation's mission of granting wishes to more than 100 children with medical conditions. With three daughters of his own, he recognizes how a dream come true can improve the mental and emotional health of a child.
Through the NY Auto Giant dealerships' community outreach efforts and Brown's own personal speaking engagements, this caring and benevolent individual has already inspired others; Nikolina has begun her own charity, Nikolina's Attic, which holds an annual tag sale, donating all proceeds to the purchase of toys for seriously ill children.
About NY Auto Giant / Atlantic Auto Group
The Atlantic Auto Group, branded as NY Auto Giant, has 22 dealership locations in Long Island, making it the eighth largest auto group in the nation. Since January 2007, Michael Brown has been a partner and owner of this major automotive provider which offers showroom sales, loans and leases, and service and repair centers across the region. Known for top-notch continuing service and generous philanthropy, this is a Long Island company with a strong and positive community presence. For more information, please visit http://www.nyautogiant.com/.
About Make-A-Wish® Suffolk County, NY
Inspired by a seven year-old boy with leukemia named Chris, Make-A-Wish® began in Phoenix, AZ, in 1980. Today, Make-A-Wish® Suffolk County, NY, continues this tradition by granting the wishes of children with life-threatening illnesses. For more information, please visit http://suffolk.wish.org/.