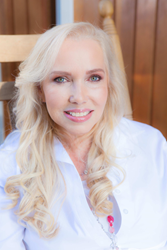 Forsyth, GA (PRWEB) July 21, 2015
In her new international #1 best-seller eBook, Conquering Grief From Your Own Front Porch, grief mediator, oncology nurse, and pharmaceutical professional, Gail Trauco, shares drug-free exercises, inspired by her Southern upbringing, for overcoming most any type of grief.
Many people associate grief solely with death, but there are many other reasons that a person might be grieving. Conquering Grief From Your Own Front Porch includes exercises for overcoming several different types of grief, including grief of poverty, abandonment, failed relationships, medical uncertainty, and, of course, death.
Trauco also identifies two new stages of grief, in addition to the five originally put forth by renowned psychiatrist Elisabeth Kübler-Ross in her 1969 book On Death and Dying. In her more than two decades of experience, Trauco noted that every single grieving person she has worked with has also experienced the stages of fear and forgetfulness, which she describes in her ebook.
"I've worked with some of the biggest names in Big Pharma, performing pharmaceutical clinical research," says Trauco, "and I can attest that the vast majority of the pills out there do indeed work. However, I also know that they're not always needed and that we as Americans are popping way more pills than we should be. I stand behind the pharmaceutical business for the work they do in enabling people to live longer, happier, and healthier. But I also believe that not every problem needs a pill. For many people, the same benefits can be derived just by sitting on your front porch, metaphorical or otherwise."
Conquering Grief From Your Own Front Porch is available for download from Amazon. Members of the media who wish to review this book may request a complimentary copy by contacting (770) 329-3340 or media(at)frontporchtherapy(dot)com.
###
About Gail Trauco
Gail Trauco has made it her life's mission to help others. Whether it's through grief mediation, hypnotherapy, or a variety of other practices, Gail calls upon her compassion as a caregiver to aid her clients in reclaiming their lives. As a certified oncology nurse and the founder of a consultancy firm that manages clinical trials, Gail is highly esteemed by her peers in the health and wellness industry, yet she still finds time for her private practice, where she feels she can make a true impact on the individual level. http://www.frontporchtherapy.com
Contact:
Jenna Rose Robbins
(770) 329-3340
info(at)frontporchtherapy(dot)com