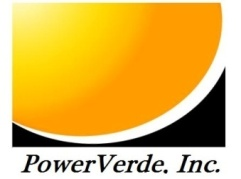 Coral Gables, Florida (PRWEB) July 31, 2015
PowerVerde Inc. (OTCBB-PWVI) a developer of renewable thermal powered electricity generator systems, today announced that it has reacquired the rights to a patented molecule known as Propofol Hemisuccinate. This intellectual property (IP) was previously sold by PowerVerde at the time of its 2008 reverse merger with Vyrex Corporation. "The opportunity to repurchase the complete patent, as well as an existing licensing agreement with a private company, complements our IP portfolio strategy, which helps to provide funding for our renewable power systems core business," said CEO Rick Davis.
About PowerVerde Inc.
PowerVerde is an energy systems developer focusing on energy efficiency and waste heat recovery using Organic Rankine Cycle technology. Leveraging its proprietary designs and strategic alliances, PowerVerde aims to develop and sell distributed power systems in the under 500kW-class that perform at industry-leading levels . Reliable, cost-effective and emissions-free power is generated for use onsite or for micro grid applications. PowerVerde's ORC technology may also be used in conjunction with geothermal, biomass and solar thermal sources. For more information visit http://www.PowerVerdeenergy.com