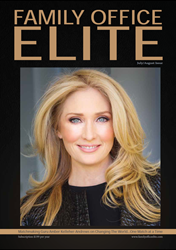 "Who better to adorn the cover of our magazine... than Ms. Kelleher-Andrews?" - Ty Murphy , CEO, Family Office Elite Magazine
(PRWEB) August 04, 2015
Family Office Elite Magazine CEO Ty Murphy announced today that they have chosen Amber Kelleher-Andrews a San Francisco based relationship expert and A-list matchmaker to adorn the cover of the August 2015 issue.
Amber Kelleher-Andrews is the CEO of renowned global matchmaking firm Kelleher International, which was founded in 1986 by her mother Jill. The company- which has expanded steadily to over 20 offices worldwide- has been credited with an A-list clientele that reads like a chapter from Debrett's Peerage. Kelleher International has been credited with matching many of Hollywood's most- famous glitterati including Academy Award-winning actors, producers and directors; NBA and NFL All-Stars as well as members of the Getty, DuPont and Rockefeller families.
Kelleher-Andrews has the noted distinction of being the first woman ever, to grace the cover of the niche publication that provides an exclusive insight into the private world of family owned Wealth Management and Banking firms. CEO Ty Murphy says, "Family Office Elite wanted to showcase talented and high-achieving women for the August issue. Finding the right candidate for the cover quickly became a very short list. After hearing about the events that Amber co-hosts with Sir Richard Branson on Necker Island, Leveraging Your Influence as a Force for Good, the selection of Amber was a done deal. She brings together an exclusive cabal of successful CEOs with a philanthropic mind-set, who are committed to annual meetings at Necker, with an unspoken mandate to inspire fellow business leaders to use their influence to better the world. Who better to adorn the cover of our magazine to resonate that message than Ms. Kelleher-Andrews?"
The feature was written by New York Times bestselling author and former People magazine writer Mark Dagostino, who in doing research for the article was inspired by the dedication of Kelleher-Andrews in utilizing her database to affect change with environmental, social and humanitarian issues on a global scale. While the publication does cover many of the financial topics that family offices deal with, it is also art and luxury- centric with regular features on high-end brands Rolls-Royce , Lamborghini, Ferrari, British Polo Day, classic sports cars, private jets and super yachts. The latest issue also has contributions and stories from other business leaders who are experts in their respective fields.
The magazine's other contributors and writers read like a who's who of the ultra-wealthy Family Office sector. Guest columnists include experts Trevor Hunt and Anthony J. Messina of BNY wealth management, Frank Casey the Madoff whistle-blower, Howard Lewis the director of the Schorr Collection, Eve Law the founder of the Association of private bankers of Greater China and Sandrine De Vuyst the Head of Private Banking at ING Luxembourg. Family Office Elite's distribution model is unique in that they are distributing the publication via Family Office and Financial Conferences and symposiums worldwide. This distribution model is specifically designed to penetrate the wealthiest and most influential ultra-rich or those defined as having a net worth of over $100 million.
Kelleher-Andrews is no stranger to the limelight. A lifelong thespian and alumna of San Francisco's American Conservatory Theatre (A.C.T) it was her stage work that caught the all- powerful eye of Hollywood casting directors, and Andrews soon found herself juggling commercials, television and feature film roles. In the late 1990s, Jill invited her photogenic daughter to help launch the Los Angeles office. Seventeen years and twenty additional Kelleher offices later, she assumed she'd put away her entertainment career for good. Not so; in 2011 Kelleher was cast as host on the Eva Longoria produced NBC Universal non-scripted matchmaking show Ready for Love. The show was slated for primetime broadcast and aired in the United States from 2012-2013 before going on to become an international hit with audiences in Australia, China, and Europe. She has been featured as a relationship expert on The Today Show; ABC's Nightline; Entertainment Tonight; The New York Times; Forbes; Fortune and W magazines as well as the BBC. She resides in Marin County, CA with her husband of 17 years, Pan American Gold Medalist and Red Belt Jiu-jitsu master Nico Andrews and their three children, two horses and one dog.
The Amber Kelleher-Andrews issue of Family Office Elite Magazine will be published end of July 2015 and will be distributed through September 2015. A digital edition will be available on the publications website - http://www.familyofficeelite.com