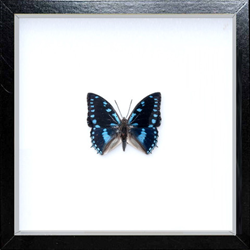 Our Stunning Charaxes Ameliae
London, UK (PRWEB UK) 27 August 2015
Insect Frame UK, a web-based service that produces make-to-order framed insects and butterflies, announced its updated website on Tuesday, July 25. The new site offers a cleaner, easier to navigate platform for customers, and allows for easier browsing of deals, new arrivals, and product reviews.
The company employs numerous entomologists, who work together with their workshops to ethically, legally, humanely, and efficiently produce their unique and beautiful products. In addition to the artistic value of the frames, the support of local farmers and breeders who raise insects and butterflies helps to avoid deforestation. Additionally, all partner farmers cultivate larval and adult feeding plants for the butterflies and insects without the use of any pesticides, and are thus very environmentally friendly.
Focused on providing creative alternatives to customers' interior design and home decoration needs, Insect Frame UK regularly adds options to its new arrivals collections. In addition to framed butterflies, the company also offers extensive varieties of framed moths, beetles, and other mounted insects.
Each insect frame features a new customer review section, as well. Customer reviews are often glowing, and the frames rarely if ever receive reviews under five stars. Regularly called "wonderful," "charming," "beautiful," "amazing," and more, the mounted insect offerings range from shadow boxes to traditional matted frames.
About Insect Frame UK
Insect Frame UK is a London based business: our Entomologists and workshops collaborate for a production of limited edition of bespokes under an exquisite choice of colors species and frames.
Buying Insects and Butterflies from Native Farmers that catch and breed them, it helps their regions from deforestation, it helps their local economies and it helps avoid intensive agriculture and chemicals that kill insects forever.
All of our specimens are legally collected under the most stringent government regulations, after their short life span has ended. The tremendous amount of paperwork and licenses required to legally collecting, export and then import these specimens into the UK assure that none are endangered species.
Entomology (the study of insects) has been a fascination of humankind since his creation. The birth of collecting and preserving insects grew out of this natural curiosity.