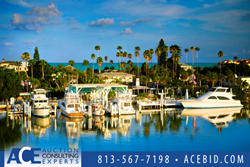 Pass-A-Grille Beach, FL (PRWEB) September 15, 2015
Auction Consulting Experts, in cooperation with Ace Realty Advisors, are privileged to announce the auction of The Birds of Paradise Boutique Resort. The auction is scheduled for 6PM Monday, October 5th, 2015 on site at 2707 Pass-A-Grille Way, Pass-A-Grille Beach, Florida.
The Birds of Paradise Boutique Resort, a private waterfront resort and marina, is located in highly exclusive Pass-A-Grille Beach, Florida. This elegant waterfront estate includes 3 separate homes with 7,000 square feet of living space, 9 bedrooms, 9 bathrooms and a private marina that can accommodate vessels up to 140 feet all with 220 feet of water frontage.
Owned by the Busch family from the mid 1950's to 1989, the estate hosted presidents, musicians, sports stars and TV legends. The property then owned by Tampa beer distributer Arthur Pepin and in 1997 was sold to John DeSilva, who created The Birds of Paradise. The property is ideal for continued use as a Boutique Resort or could easily revert back to a family retreat or private residence. The opening bid is $3.9MM, which is just 37% of its $10.5MM appraisal. A new 2015 S550 Mercedes Benz & 15ct. tw. Diamond Ring is included at a winning bid of 56% or higher!
For further information, please contact the auction company at 813-567-7198 or acebid.com for further details.
Auction Consulting Experts is a full service auction marketing and consulting firm based in Plant City, Florida. The Ace team has extensive experience in real estate auctions and has successfully promoted auctions throughout Florida and across the United States. For further details, please contact ACE (813 567 7198) or visit acebid.com.