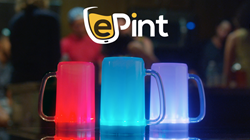 "We love beer, and we love technology, it was only a matter of time - we thought let's do it now. Parties and sporting events will be more fun and interactive with this technology. Eventually, we will see ePints lighting up an entire stadium."
Woodland Hills, California (PRWEB) September 16, 2015
Xtreme Tech LLC is excited to announce ePint, the World's first Internet connected Smart Beer Mug. ePint is now available for pre-order on Kickstarter.
ePint is a high quality poly carbonate mug that inconspicuously contains sophisticated electronics that connect to the Internet of Things and allow it to change color based on what is happening. The ePint interacts with and responds to the world around it, allowing for some incredible new and exciting experiences. All ePints in the same location can flash in synchronization to music and simultaneously respond to scoring events in live sports games. Redzone alerts can be set for your favorite team, then watch as your ePint changes and flashes your team's colors when they score. Watching the game will never be the same. Communicating with each other, multiple ePints allow for a new era of social interaction. Send alerts to your friends and play truly interac-tive party games. Stadiums and arenas can integrate the ePint into their applications allowing the ePint to alert them when you need a refill and connect all the ePints in the stadium for promo-tional contests. The ePint is even smart and responsible enough to offer to call you a taxi near the end of the game, the ultimate game day companion.
Each ePint is packed with the latest in technology. Multiple full-color RGB LEDs can illuminate the ePint in any color. Bluetooth connects the ePint to the Internet of Things. Sensors know whether the mug is full or empty, picked up, put down, toasting other ePints or even if having a drink. This technology enables an incredibly interactive experience and is the ultimate addition to any home bar or man cave. Parties and sports events become more fun and interactive as eve-ryone's ePints responds to the events around them.
Why make a smart beer mug? The team at Xtreme Tech agrees that the Internet of Things is changing the world. "The internet of things revolution has seen many products connect to the Internet," said Carter Chalmers, President of Xtreme Tech LLC. "We wanted to take an everyday item and connect it to the Internet to see what could be enabled. We love beer, and we love technology, it was only a matter of time - we thought let's do it now. Parties and sporting events will be more fun and interactive with this technology. Eventually, we will see ePints lighting up an entire stadium."
Xtreme Tech is a technology company that has been designing and manufacturing consumer connectivity products for several years. The ePint is available for pre-order at promotional prices as part of the company's Kickstarter campaign that will help bring the ePint to market in early 2016.
Kickstarter: https://www.kickstarter.com/projects/epint/epint-internet-connected-smart-beer-mug
ePint Website: http://www.myepint.com
Facebook: http://www.facebook.com/myepint