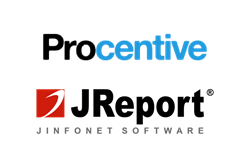 Procentive's partnership with JReport will empower our provider organizations with the ability to garner deeper insights from their own data.
Rockville, MD (PRWEB) September 30, 2015
JReport, the leading embedded visualization and reporting software solution, was recently chosen by Procentive to enhance their practice management software with an advanced BI solution. Procentive provides electronic health record (EHR) software for behavioral, mental and chemical health providers. They needed visual, easy-to-use, yet sophisticated BI and reporting capabilities as a part of their Procentive EHR SaaS application. Armed with these requirements, they selected JReport as the best fit for the BI needs of their growing customer base.
Procentive's customers include thousands of psychologists, therapists, billers and business owners who rely on Procentive's hundreds of reports to track their organizations' performance. With the addition of JReport, Procentive will be able to turn a system for generating reports into a system for visualizing information.
JReport will add new interactivity and analytical capabilities to Procentive, helping every-day users draw conclusions from data metrics ranging from revenue cycle management, to care effectiveness and staff performance. Behavioral health organizations are typically not accustomed to using BI, and with JReport, Procentive's users will be easily able to visualize and track outcomes, make data-driven decisions and benchmark performance across agencies.
Using JReport ad hoc reporting, Procentive will develop customized reports for organizations' specific needs and empower organizations to create their own ad hoc data visualizations, even by less technical end users. A gradual transition from simple, visual reports to more powerful, sophisticated data visualizations will ensure that end users get the proper training they need to maximize decision-making efficiency.
JReport was chosen as the right BI solution due to its architectural robustness, overall ease of use, and flexible licensing model.
"Procentive's partnership with JReport will empower our provider organizations with the ability to garner deeper insights from their own data," says Randy Zimmermann, CEO of Procentive. "This will help our community of users provide better, more effective care by tracking outcomes, increasing client engagement and increasing operational performance. As our industry becomes increasingly data-driven, data visualization will be critical to the success of our customers."
"We are proud to play a role in helping health and social services organizations with the tools they need to treat their clients," says Dean Yao, Director of Marketing at Jinfonet Software. "With JReport at the heart of Procentive's BI and reporting, their user base will achieve greater data insights at a low learning curve."
JReport 13.1 is now generally available. To request a customized demo, please contact sales@jinfonet.com or call (240) 477-1000. You can also view our JReport Product Demo to get a more detailed look at the JReport product suite.
About Procentive
Procentive is a pioneer in cloud-based practice management and EHR software exclusively for behavioral, mental and chemical health providers. Procentive's solutions power for-profit and non-profit mental health, chemical dependency/substance abuse, and social services practices of all sizes, from sole-providers to multi-site agencies.
More information on Procentive is available at http://www.procentive.com.
About Jinfonet Software
JReport, developed by Jinfonet Software, is an embeddable Java-based BI solution for the enterprise. JReport empowers users to create reports, dashboards and data analysis on cloud, big data and transactional databases. Users now have access to their own BI and data visualization capabilities from within their applications. JReport has been deployed by hundreds of thousands of users at more than 10,000 installations worldwide.
More information on JReport and Jinfonet Software is available at http://www.jinfonet.com.