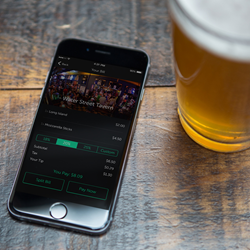 Going live at our fiftieth college is an exciting moment for us," said Jeff McGregor, CEO of Dash.
New York, NY (PRWEB) September 30, 2015
Dash Software, a leading mobile payment smartphone app for restaurants, bars, and clubs, announced today their expansion to more than 50 colleges and universities nationwide. With this expansion, Dash is bringing its award-winning product to 28 states and the District of Columbia, giving restaurant goers the ability to pay from their phones without having to wait for the check at hundreds of locations across America.
Dash's college-based strategy has been met with strong demand from students, whose interest is helping to aggressively fuel Dash's ambitions of being the dominant restaurant payment app for the under 25 demographic. Dash seamlessly integrates with restaurants' point of sale systems, enabling diners to effortlessly split the bill, add a tip, and pay without physically handing over a credit card or waiting for the check.
"Going live at our fiftieth college is an exciting moment for us," said Jeff McGregor, CEO of Dash. "The robust growth and positive feedback we've seen from our student base over the past year is a huge validation of our efforts, and has been instrumental in helping us create a better Dash experience for all our users. Dash is about making going out with friends more enjoyable. By giving our users a tool to find the best places to go, know exactly what to expect when they walk in, and taking care of payment on the back-end, we're improving a night out with friends."
More than 180 million people in the United States own smartphones, with a recent Baylor study showing that college students spend an average of 9 hours per day on their phones. "These numbers speak for themselves," added Tom McNulty, Dash's VP of Sales. "We're going to continue to strategically target these markets with the goal of being active on over 100 of the largest campuses nationwide by this time next year."
Mike Beder, Owner of Water Street Tavern, one of the largest bars at Kent State University, and one of Dash's earliest launch customers, has witnessed the increasing digitization of restaurant and bar payments firsthand. "Dash was the first really cohesive mobile app to add value for a college bar like Water Street Tavern," said Beder. "What I love about it is that it gives the customers a better experience because it's easy to use and makes for a more hassle free night out. College kids are on their smartphones all the time and are very familiar and open to new technologies. We want to improve their experience in any way we can. Dash is more than just a way to pay. It's a tool that helps us run more efficiently and effectively."
ABOUT DASH
Transforming the experience of dining out by eliminating the need to wait for the check at restaurants and bars, Dash is a mobile payment platform that allows patrons to check-in, view, split, and pay their tab from their smartphone. Dash was founded in 2011, and is a leading pioneer of mobile payment in the hospitality space, with backers including Caerus Ventures, Great Oaks Venture Capital, and Jonathan Segal. Thanks to proprietary patented technology that allows for their users' mobile devices to be directly integrated into merchants' point-of-sale systems, Dash allows for a seamless experience on both sides of the hospitality transaction. Dash is available for free download on iOS and Android. For more information, visit http://www.paywithdash.com.