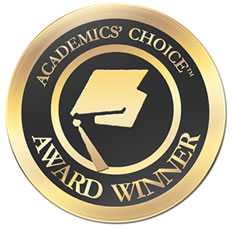 At codeSpark we care deeply about helping kids learn so winning an award that validates the effectiveness of The Foos is especially meaningful to us.
Aptos, CA (PRWEB) December 02, 2015
Academics' Choice today announced the winners of the Fall 2015 Academics' Choice Awards, a prestigious seal of educational quality, reserved only for the best mind-building media and toys. The independent Academics' Choice Awards program and its seals of excellence are recognized worldwide by consumers and educational institutions as indicators of genuinely effective learning tools that stimulate the mind, and provide potential for students to fully develop higher order thinking skills for success in school and life. A total of 67 products earned the award this fall. The full list of winners is posted online at http://www.academicschoice.com/2015.
The Academics' Choice Advisory Board consists of leading thinkers and graduates from Princeton, Harvard, George Washington University, and other reputable educational institutions. Product-appropriate volunteer reviewers, combined with the brainpower of the Board, determine the coveted winners. Entries are judged by category (i.e. mobile app, toy, book, website, magazine, etc.), subject area, and grade level, and evaluated based on standardized criteria rooted in constructivist learning theory.
"At codeSpark we care deeply about helping kids learn so winning an award that validates the effectiveness of The Foos is especially meaningful to us." - Grant Hosford, Co-founder & CEO, http://www.codespark.org
"We are thrilled Academics' Choice honored our product with this award," said Vikas Gupta, CEO and Co-Founder of Wonder Workshop. "It further validates our belief that products that delight children at home can also be great learning tools in the classroom. With Wonder Workshop robots now in over 1,000 elementary schools, it's very rewarding to see Dash and Dot supported by teachers and parents alike."
"It's a tremendous honor of being selected as an Academics' Choice Awardee. Of all the awards we have won, Academics' Choice is different and important. It validates our intention to create a toy that is more than a plaything, but an educational opportunity for open-ended, creative, and collaborative thinking, skills we believe are vital to children's mental growth and the success of their future endeavors." - Andy Musliner, Founder/CEO InRoad Toys
"It's a great honor to receive the Academics' Choice Award! We are very grateful to have the recognition! Thank you so much for your kind help and support! We are encouraged to continue our effort to make high quality kids educational apps/games about science." - Jane Ji, President, Springbay Studio Ltd.
The products that are not chosen by the Academics' Choice Awards team (and many that are chosen) are donated to a variety of worthy charities.
About Academics' Choice:
Academics' Choice helps consumers find exceptional brain-boosting material. Academics' Choice is the only international awards program designed to bring increased recognition to publishers, manufacturers, independent authors and developers that aim to stimulate cognitive development. A volunteer panel of product-appropriate judges, including parents, educators, scientists, artists, doctors, nurses, librarians, students and children, evaluate submissions based on educational benefits such as higher-order thinking skills, character building, creative play, durability and originality. Only the genuine "mind-builders" are recognized with the coveted Academics' Choice Awards.
###