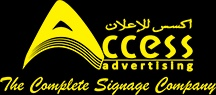 (PRWEB) May 25, 2015
Access Advertising Abu Dhabi one of the leading Sign makers in the region launched its new website http://www.accessads.ae targeting UAE Sign Industry.
"We have been working on an improved internet experience for Access Ads visitors for quite some time and we are excited to launch our new website with clearly target sign markets in Abu Dhabi and Dubai with enhanced features and Smartphone friendly where users can browse our website, view our projects and order our services online," commented Shereef Mustafa, Managing Director of Access Advertising, Abu Dhabi, on launching event of the new website http://www.accessads.ae
"Soon we will be adding chat option where customers can directly chat with our sales department online and get the pricing proposal and technical aspects for their project."
The new website will also provides the social media integration with direct links to AccessAds Social pages, where company and other updates appear on a weekly basis.
About Access Advertising Abu Dhabi
Founded in Abu Dhabi in 2004 Access Advertising ISO certified company is a full service signage company; manufacturing supplying and installing signage throughout UAE. With a professional and integrated team, with latest CNC & Laser technologies. Access Advertising provides a total solution for LED signs, Neon Sign, Retail Signs, Mall Signs, Engraved Signs, Architectural Signage, and Projects with specific signage needs and having clients in residential, commercial, industrial, municipal and governmental sectors.