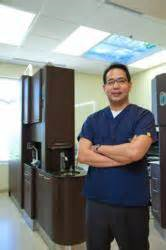 Apple Valley, MN (PRWEB) April 09, 2015
General dentists are invited to attend and gain the knowledge, skills and confidence to restore the fully edentulous arch with an implant supported prosthesis utilizing the All-on-4™ treatment concept. This program also aims to provide Dentists the following benefits:

recognize the clinical indications of an implant supported prosthesis and its benefits to patients.
describe the surgical aspect of the treatment and how it affects the prosthetic outcome.
establish effective communication with the implant surgeon.
identify the step-by-step procedures in denture conversion and the final prosthesis.
apply skills that are relevant to the restoration of an edentulous case with implants.
For more information about the course and how to register, you may visit http://www.dentalce.umn.edu.
Dr Ranier Adarve attended training on the All-On-4 Treatment Concept at the Malo Clinic in Lisbon, Portugal, under Dr Paulo Malo. Given his training and expertise, Dr. Adarve remains the leading practitioner and thought leader on All-On-4 in his practice area.
Dr Ranier Adarve, is an Associate Professor at the Department of Restorative Sciences, Division of Prosthodontics at the University of Minnesota School of Dentistry. He is also the prosthodontist at Adarve Prosthodontics, LLC, a state-of-the-art Dental Specialty Clinic in Apple Valley. His practice focuses mainly on implant-supported prosthesis, full-mouth reconstructions, esthetic dentistry and general restoratives.
To learn more about Dr. Adarve and his dental practice, please visit the website http://www.adarveprosthodontics.com. You can also contact him at 1-888-601-7720 or through email at [email protected]
About the Prosthodontist
Dr. Ranier M. Adarve, DMD, MS, MHPE, Prosthodontist, is a highly trained and experienced dental specialist with impeccable educational background. Great institutions all over the world molded his training and experiences. He earned his double masters degrees, certificate and professional programs from Harvard Macy Institute (2010), Nobel Biocare Training Institute (2010), University of Minnesota Graduate School (2005), University of Minnesota Graduate Prosthodontic Program (2005), University of Minnesota College of Educations (2005), University of the Philippines- National Teachers Training for Health Professionals (2002) an University of the Philippines College of Dentistry (1996).
He is also an international dental educator with exceptional academic and scholarly record. He is currently an Associate Professor at University of Minnesota School of Dentistry and taught in Oregon Health and Science University (2005-2007), University of the Philippines (1998-2002) and Emilio Aguinaldo College (1996-2002). In 2012, Dr. Adarve was the Recipient of the Teaching Excellence Award given by the American Dental Educators Association for his outstanding contribution and innovation in dental education. This award is only given to one individual among all the dental educators of US and Canadian Dental Schools and Colleges.
Currently, Dr. Adarve is a member of the faculty of the Department of Restorative Sciences Division of Prosthodontics, where he is appointed as the Course Director for Pre Clinical Fixed Prosthodontics. He also holds various teaching and service roles for undergraduate dental students, International students, and Graduate Prosthodontic residents.
Dr. Adarve is an active member of American College of Prosthodontist (ACP). He is also actively involved in American Dental Education Association (ADEA) since 2004. He became the President of the Educational Research / Development and Curriculum Section of the ADEA in 2011. He is also the most published author in MedEdPORTAL, a publication service that promotes educational scholarship to medical and dental educators and provided by the Association of American Medical Colleges in partnership with the American Dental Education Association.
Dr. Adarve is a practicing Prosthodontist. He is a consultant of the Minnesota Board of Dentistry for Prosthodontics and also a liaison to Central Regional Dental Testing Center (CRDTS). He lectures locally and internationally and runs a study club for general dentist
About the Learning Center
Adarve Prosthodontics Learning Center is a center for community and professionals to interact and learn. The center provides Public Education program for patients and Professional Education programs for dentists. As educator himself, Dr. Adarve believes that education is a key for both patients and dentists to advance the oral health of every individual.