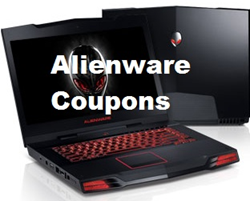 Online shoppers and gamers can get up to 33% off popular Alienware gaming notebooks and desktops.
(PRWEB) February 07, 2015
Bizwaremagic.com posts new Alienware discount coupons where potential shoppers can receive up to $700 off popular gaming products. New discount coupons are regularly featured on the 12-year-old site that runs a convenient Laptop Computer Buyer's Guide for its patrons and subscribers.
The main goal of this online guide is not only to give computer buyers helpful information, but also to provide the latest discount coupons from major manufacturers such as Dell, HP, Toshiba, Lenovo and Alienware. The current sale runs from February 5th to February 20th, 2015. Most offers come with free shipping, but see the official Alienware site for complete terms and conditions.
The current offers include receiving 33% off the well known Alienware 17 gaming laptop which features an Intel Core i7 processor, 16GB of memory, 1TB hard drive, AMD R9 M290X graphics card and Windows 7 for around $1549. Potential bargain hunters can also get 22% off the Alienware 18 notebook with an Intel Core i7 processor, 16GB of memory, 1TB hard drive, AMD R9 M290X GPU and Windows 8.1 for $2399.99.
Desktop coupons include 28% off the Alienware X51 with an Intel Core i5 processor, 8GB of memory, 1TB hard drive, NVIDIA GTX 745 and Windows 8.1 which is priced at $724.99. Also featured is the Alienware 13 Laptop/Desktop that comes with a 15% discount and sells for around $924. This system sports an Intel Core i5 processor, 8GB of memory, 1TB hard drive, Windows 8.1 and the NVIDIA GTX 860M GPU. Keep in mind, with an external Alienware Graphics Amplifier this laptop can have the power of a desktop.
In addition, the new Alienware 15 gaming laptop is listed for $1199.99 and up. This notebook sports all the highest specs and is crafted with carbon-fiber materials for superior durability.
Alienware is well known for its high-performance gaming products and is often considered by gamers when purchasing a new system. While it has faced steady competition from popular brands such MSI, ASUS, Origin, Falcon Northwest and HP Envy - Alienware remains a leading brand when it comes to superior gaming systems.
This particular updated Alienware Coupons/Discounts Page can be found here: http://www.bizwaremagic.com/alienware_coupons_discounts.htm. Bizwaremagic.com is a 12-year-old site that features many free guides and resources. Interested parties can also download our comprehensive Laptop Guide here: http://www.laptopcomputerguide.org All products/companies mentioned above are registered trademarks of their respective owners and companies.