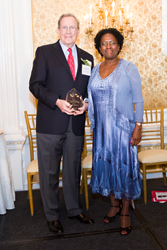 Garden City, NY (PRWEB) June 30, 2015
On June 3rd, 2015 ERASE Racism held its 2015 Annual Benefit at the Garden City Hotel. The theme of the event was "Moving Forward Together" and celebrated the continued work of activists to push for racial equity on Long Island and beyond the region. The event honored Peter B. Edelman, a renowned attorney, policy maker, and law professor specializing in constitutional and poverty law. Two labor unions, 1199SEIU UHE and Teamsters Local 237, were recognized for their civil rights advocacy.
Through ticket sales, sponsorships, journal advertisements, donations, and silent auction items, the 2015 Annual Benefit Reception raised over $200,000. These funds will help support ERASE Racism campaigns to advance racial equity in housing, education, and public health on Long Island and beyond.
About ERASE Racism: The Complainant, ERASE Racism Inc., is a private non-profit corporation, organized under the laws of the State of New York. Its mission is to identify and expose forms of racial discrimination and advocate for laws and policies that help eliminate racial disparities, particularly in the areas of housing, community/economic development, land use, public education and health. Its vision calls for transformed, integrated communities in which no person's access to opportunity is limited by race or ethnicity.