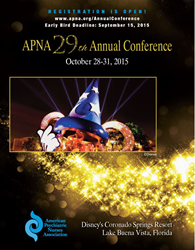 Psychiatric-mental health nurses can have a pivotal role through strategic collaborations in advancing truly holistic, integrated models of health care.
Falls Church, VA (PRWEB) June 30, 2015
The American Psychiatric Nurses Association (APNA) 29th Annual Conference will be held October 28-31, 2015 at Disney's Coronado Springs Resort in Lake Buena Vista, Florida, and will offer more than three days of continuing nursing education and networking. Each year, this premiere event for psychiatric-mental health nursing draws more than 1,500 health care professionals from around the world and offers a program addressing current advances and innovations in nursing and mental health care. Registration for the conference is now open at http://www.apna.org/AnnualConference.
"This year's conference theme, Collaborating in an Evolving Health Care System: Opportunities to Advance Psychiatric-Mental Health Nursing, provides a framework to engage participants in sharing and exploring intra and inter-professional collaborations across administration, education, practice and research to improve the mental health of the nation," says APNA President Susie Adams, PhD, APRN, PMHNP-BC, PMHCNS-BC, FAANP. "We are witnessing many changes in access to health care services in our evolving healthcare delivery system, and psychiatric-mental health nurses can have a pivotal role through strategic collaborations in advancing truly holistic, integrated models of health care."
APNA Annual Conference content is suitable for nurses at all levels of practice, as well as health care professionals who provide care to persons with mental health and/or substance use needs in any setting. Session topics include psychopharmacology, integrated care, addiction, suicide assessment and management, older adult mental health, child and adolescent mental health, military mental health, psychotherapy, PTSD, and more. Additionally, keynote presentations will be given by best-selling author and consumer advocate Brian Cuban and American Nursing Association president Pamela Cipriano, PhD, RN, NEA-BC, FAAN. More information about the program is available at http://www.apna.org/ACProgram.
Attendees will be able to earn up to 28.5 continuing nursing (CNE) education contact hours for sessions attended at the conference. After the conference, attendees can gain an additional 100+ contact hours by accessing session recordings online. Register by the Early Bird Deadline of September 15, 2015 to save $75 on registration.
The American Psychiatric Nurses Association is a national professional membership organization committed to the specialty practice of psychiatric-mental health nursing and wellness promotion, prevention of mental health problems and the care and treatment of persons with psychiatric disorders. APNA's membership is inclusive of all psychiatric-mental health registered nurses including associate degree, baccalaureate, advanced practice (comprised of clinical nurse specialists and psychiatric nurse practitioners), and nurse scientists and academicians (PhD). APNA serves as a resource for psychiatric mental health nurses to engage in networking, education, and the dissemination of research.
The American Psychiatric Nurses Association is accredited as a provider of continuing nursing education by the American Nurses Credentialing Center's Commission on Accreditation.