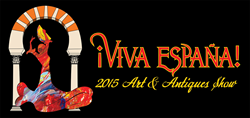 Jacksonville, Florida (PRWEB) August 31, 2015
Theme "¡Viva España!" highlights Spanish culture and history, and their influence on Florida, at 2015 event
(high-res photo available upon request)
The Women's Board is pleased to announce its 2015 Art & Antiques Show to benefit Wolfson Children's Hospital. Recognized as one of the South's largest and highly anticipated art and antiques shows, the 39th annual event will celebrate the vibrant culture of Spain while showcasing the nationally acclaimed speakers and internationally renowned art and antique dealers.
Who: The Women's Board of Wolfson Children's Hospital, a group of 400 volunteers passionate about children and their health, will host its 39th annual Art & Antiques Show to continue their ongoing commitment to raising funds for one of the best children's hospitals in the country.
What: The 2015 Art & Antiques Show is a three-day show and sale that features a black-tie Opening Night Party, lectures led by nationally known interior designers and antique experts, a children's fashion show and art and antiques that meet a wide range of budgets displayed by dealers from across the country.
Where: Prime F. Osborn III Convention Center
When: Thursday, Dec. 3 through Sunday, Dec. 6, 2015
Cost: Show Admission: $15; Lecture Tickets: $30
¡Vivan Los Niños! Children's Fashion Show: $10 adults, $5 children
A variety of sponsorship and benefactor levels that include benefits such as tickets to the Opening Night Party, lecture tickets, ads in Show magazine are available.
Show's Lecture Series:
Thursday, Dec. 3, 6:30 pm
Alexa von Tobel
A new event targeted at our younger patrons and professionals, Jacksonville's own Alexa von Tobel, the celebrated financial expert and New York Times bestselling author, will be a guest speaker.
Friday, Dec. 4, 10 am
Alexa Hampton
Title: "Decorating in Detail" (with book signing)
Alexa Hampton is owner and design lead of Mark Hampton LLC, the internationally acclaimed design firm that was begun by her late father. Hampton is a perennial member of Architectural Digest's AD100 and House Beautiful's Top Designer list, as well as a member of Elle Décor's A-list. Her work is classic and eclectic.
Friday, Dec. 4, 11:30 am
Juliana (Juli) Catlin and William Nash
Title: "Florida Architecture and Style: From Ponce de Leon to Lily Pulitzer"
As principal of Catlin Design, Juli Catlin has led her firm to more than 30 years of design excellence, and has been featured in many national publications. William Nash is one of the Southeast's up-and-coming experts in antiques and decorative arts and, in partnership with his father, runs E.W. Nash & Son, an antiques restoration and appraisal firm located in Jacksonville.
(ASID credit, 3.0 CEU Florida State approved)
Saturday, Dec. 5, 10 am
Richard Keith Langham
Title: "If These Walls Could Talk"
Originally from Alabama, educated in New York and apprenticed under Mark Hampton, interior designer Richard Keith Langham's client list is as diverse as the rooms he puts together, from Jacqueline Kennedy Onassis and Mrs. William F. Buckley to Hilary Swank. With love for clear color and real comfort, his stylish rooms are grounded in English sensibilities. Langham has been recognized on Elle Décor's A-list as well as Architectural Digest's AD100 in 2012 and 2013.
Saturday, Dec. 5, 1:30 pm
Barbara Westbrook
Title: "Every House Has a Story" (with book signing)
Barbara Westbrook, a native of Virginia, launched Atlanta-based interior design firm Westbrook Interiors in 1992 after designing under the tutelage of venerable Southern talents Nancy Braithwaite and Gandy-Pearce. For 20 years, she has made her mark on high-end residential and commercial spaces employing her signature style: tasteful, tactile, timeless and simply elegant. She is regularly featured in national design publications.
Sunday, Dec. 6, 1 pm
J. Michael Francis, PhD
Title: "Before Jamestown: Europeans, Africans and Indians in Spanish Florida" (with book signing)
To celebrate the show's Spanish theme, historian and author Dr. J. Michael Francis, who is considered the preeminent international expert on colonial Latin America, Early Florida, Spanish Borderlands, the Pre-Columbian Americas and Spanish Paleography, will share his love and insight of Spanish Florida. Dr. Francis was appointed by Ken Salazar, US Secretary of the Interior, to serve on the St. Augustine 450th Commemoration Commission in 2011.
Sunday, Dec. 6, 2:30 pm
Title: ¡Vivan Los Niños!: The Children's Fashion Show
The heart of the weekend, ¡Vivan Los Niños! (Long Live the Children!), will feature current and former patients of Wolfson Children's Hospital. Special entertainment will include dancers, storytellers, face painters and Wolfson patient and The X Factor finalist Rion Paige.
Why: The Women's Board has raised more than $26 million in support of Wolfson Children's Hospital to ensure the advancement of world-class medical care for all children. Two major annual events – the Art & Antiques Show and the Florida Forum speaker series – currently enable The Women's Board to donate more than $1 million a year to Wolfson Children's Hospital. In 2013, The Women's Board accepted a new challenge to raise $4 million over five years for the creation of a Pediatric Surgery Center of Distinction at Wolfson Children's Hospital. This center will enable a highly skilled surgical staff to work on advancing surgical techniques, expanding the use of minimally invasive and robotic surgery and helping the hospital meet the needs of pediatric trauma patients. For more information, visit womensboardwch.com or follow The Women's Board on Facebook, Twitter, Instagram and via their blog at artandantiqueshow.wordpress.com.
Background: The Women's Board of Wolfson Children's Hospital was founded in 1973 when Ellen Cavert invited 40 of her friends to join her to increase community awareness of the hospital and to raise funds for continued improvement of its services. The quality of Wolfson Children's Hospital became Ellen's mission after one of her twin granddaughters died following a premature birth. With that mission clearly in focus, nearly 400 members of The Women's Board have raised more than $26 million for facilities, equipment and programs. The 1976 Boehm Exhibit was the first Women's Board event. This was followed by the winter Antiques Show held in 1977, which is now called the Art & Antiques Show.
###
About Wolfson Children's Hospital of Jacksonville
Wolfson Children's Hospital in Jacksonville, Florida, is a part of Baptist Health, Northeast Florida's most comprehensive health system serving every stage of life. Wolfson Children's is the only hospital just for kids in Northeast Florida and serves as the region's pediatric referral center. Staffed 24/7 by pediatric nurses and other healthcare professionals specially trained to work with children, the 216-bed, patient- and family-centered hospital features the latest pediatric medical technology in a welcoming, child-friendly environment. At Wolfson Children's, nationally recognized pediatric specialists representing nearly every medical and surgical specialty work with pediatricians to provide care for children of all ages with congenital heart conditions, cancer, neurological disorders, diabetes and endocrinology disorders, orthopaedic conditions, behavioral health conditions, and more. Wolfson Children's pediatric partners include Nemours Children's Specialty Care, Jacksonville, the University of Florida College of Medicine—Jacksonville, and Mayo Clinic Florida. For additional information, please visit wolfsonchildrens.org.