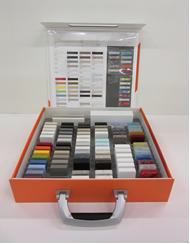 The advantages of Avonite® lie in its variety of sheet dimensions and thicknesses as well as in its many attractive designs and colors.
Florence, KY (PRWEB) January 08, 2015
Rosskopf + Partner AG has expanded its range of solid surface products to include the Avonite® brand from Aristech Surfaces LLC. The advantages of Avonite® lie in its variety of sheet dimensions and thicknesses as well as in its many attractive designs and colors. Rosskopf + Partner has Avonite® exclusivity for Germany and Austria.
When it comes to providing design solutions for quality surfaces, solid surface is very popular with architects, planners and fabricators. Solid surface is a compelling material that is both visually appealing and offers maximum functionality. In order to better respond to customer requests, Aristech Surfaces LLC has partnered with leading German fabricator, Rosskopf + Partner, who has added the Avonite® brand into its existing range of products. In addition to its advanced material properties, Avonite® is especially attractive because of its wide variety of patterns and unique sheet sizes.
Avonite® Surfaces come in two distinct collections: Avonite® Acrylic Solid Surface includes a total of 56 designs in four decorative color groups: Whites, Solids, Translucents, and Structured. The Studio Collection® of specialty blend solid surface has 17 attractive designs in three decorative color groups: Glass, Metallics and Petals.
Avonite® Acrylic Whites – Timelessly Elegant
Solid surface solutions in pure white are particularly sought after by architects. Avonite® has included six elegant shades of white in its new International Palette. With "Vision in White" a translucent color is also included in this collection.
Avonite® Acrylic Solids – Striking Solid Colors
The Solids collection includes 25 solid colors. While the designs in the gray to black spectrum appear cooler and more structured, dark brown and beige tones, such as "Café au Lait," tend to create a warmer atmosphere. The pastel hues lend pleasant color accents – while bright colors such as "Green Apple" or "Mango" provide more vibrancy. In addition to white and cream colors, a rich black completes the palette of solid colors.
Avonite® Acrylic Translucents – Soft Lighting Effects
Soothing effects become possible with the translucent "Vision in White," "Vision in Mint" and "Vison in Powder Blue" designs. These color selections provide a creamy pastel surface that glows with a soft light when backlit.
Avonite® Acrylic Structured – Multifaceted Patterns
The Structured collection offers a wide range of patterned solid surface materials that resemble the natural look of sand, marble and granite. The color spectrum ranges from a nearly white "Alpine Shimmer," to gray and light brown nuances as well as expressive brown and black tones. The fine, uniformly structured surfaces radiate a special charm and elegance and are an exquisite alternative or complement to solid colors. In contrast, irregularly interspersed, sometimes reflective flakes in light and dark nuances impart depth and more dynamic surfaces.
The Studio Collection® combines the aesthetics of colored glass, and the unique depth of truly translucent material with the functional advantages of solid surface. Most of these designs can be backlit with dramatic effect and are therefore perfectly suited for prestigious and high-impact applications such as reception and sales counters or for restaurant and bar decor. Glass designs are available in the silvery-white "Frosted Glass" look, in two cool blue tones, and in warm orange and red. The Metallics include elegant shimmering surfaces in gray, pale blue and light brown tones, some with real metal particulates. The collection is rounded off with the unique and playful Petals designs, translucent colors and beautiful designs such as "Rosehip" or "Bluebell," reminiscent of flower petals.
The different compositions of Avonite® Surfaces' two collections, Avonite® Acrylic Solid Surfaces and The Studio Collection®, position them individually for various applications. The latter, due to its chemical composition, provides greater uniqueness and visual drama, and is suited for interior applications – both functional and purely decorative or artistic. Avonite® Acrylic Solid Surface is highly UV-resistant and is therefore well suited for outdoor applications such as building facades and furnishings, and while Studio Collection® sheets can be thermoformed, Avonite® Acrylic Solid Surface sheets can be more so, which makes it the ideal choice for innovative or unusual 3D creations.
All solid surface sheets can be inconspicuously seamed and, thanks to the non-porous nature of the material, it is resistant to water, dirt, and many chemicals, which makes it extremely hygienic and easy to clean. Solid surface is ideal for use in healthcare, such as for operating rooms, doctors' offices, patient bathrooms and laboratories, and is in fact the preferred surfacing material of healthcare designers.
Rosskopf + Partner will be providing Avonite® sheets in 3, 6, 9 and 12 mm thicknesses as well as in customized sizes with widths up to 1524 mm and lengths up to 5182 millimeters. Not only does this make it possible for Rosskopf + Partner to better respond to customer needs, but it also allows for more efficient production, because large items can be processed in one piece and with significantly less waste.
Avonite® Surfaces is the solid surface material brand of Aristech Surfaces LLC, a company that has been innovating in the solid surface material market since 1983. With this partnership Rosskopf + Partner is responding to the growing demand for solid surface material resulting from its ever increasing use in more and more diverse applications.
For additional information send an e-mail to info(at)aristechsurfaces(dot)com.