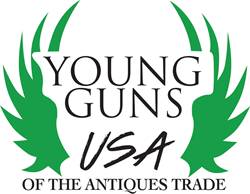 New York, NY (PRWEB) July 20, 2015
This fall, Antiques Young Guns U.S.A. will name the inaugural Antiques Young Gun of the Year during the Pier Antique Show, November 14 at 9 a.m. This award celebrates the hard work, dedication and excellence displayed through a young gun's work in the antiques industry.
"The goal of the Antiques Young Gun of the Year award is to highlight the best and brightest young people working in the antiques trade today," says Dan Darby, U.S. Antique Shows general manager. "Through this award, we look forward to developing influential leaders who will establish the future of our industry as well as guide others to their career success."
The 2015 award will recognized one young gun that stands above the rest in categories such as career development, vision for the antiques industry, social media activity, and key contributions. He/she will be chosen, from the nominations submitted, by a panel of elite industry professionals including:

Doris Athineos, art & antiques editor of Traditional Home
LaGina Austin, director of appraisal and auction services at Skinner, Inc.
Allis Ghim, CEO at Bidsquare
Mark Hill, owner of Mark Hill Publishing and one of the founders of AYG
Tom Johnson, founder, president and CEO of Ruby Lane, Inc.
Leigh Keno & Leslie Keno, co-president of Keno Brothers Fine Automobile Auctions and president of Leigh Keno Inc. (Leigh),
co-president of Keno Brothers Fine Automobile Auctions and president of Leslie Keno Art Advisory (Leslie), "2000 Hidden Treasures" co-authors, television personalities, and historic automobile judges and preservationists.

Gail McLeod, owner of Antiques News and Fairs and one of the founders of AYG
Peter Wunsch, president of the Wunsch Americana Foundation
Judge Peter Wunsch explains the reason he decided to serve on the judging panel and why he believes the Antiques Young Gun of the Year award is important. "For years now, I have been wondering where to look for the Fountain of Youth in Early American Antiquities. I have looked at the names and faces in industry magazines and newspapers, at auctions, and in the curatorial field, and I have feared that no one was paying attention to the thinning ranks of eager, younger new faces." He continues, "The Antiques Young Gun of the Year award represents the acknowledgement and encouragement of possible new leadership and that, in my opinion, is an imperative."
Judge Tom Johnson echoes Wunsch's sentiments, "As the traditional Ruby Lane buyer and seller skews older, Antiques Young Guns is the perfect way to help us educate and attract younger buyers and sellers to our antique and vintage marketplaces. As a judge, I'm excited to see what new and creative ideas these AYGs bring to the industry."
The winner will receive a prize package valued at $10,000. The prizes, with significant contributions from the Antiques Young Guns' industry partners, vary from complimentary booth space at U.S. Antique Shows events to free educational opportunities to advance trade knowledge.
All applicants must be members of Antiques Young Guns U.S.A. and currently reside in the U.S. or Canada to be considered. Terms and Conditions do apply.
Originating in the U.K., Antiques Young Guns was founded by three noted antique experts, Gail McLeod of Antiques News & Fairs, George Johnson of Lady Kentmores, and TV presenter and author Mark Hill, in 2011. In March 2014, U.S. Antique Shows formed strategic alliance with the Antiques Young Guns U.K. to bring the popular program to the U.S.
Visit AntiquesYoungGunsUSA.com for more details.
###
About U.S. Antique Shows
U.S. Antique Shows, producer of the industry's most anticipated events, serves the unique needs of the antique and antique jewelry marketplace with shows in Las Vegas, Los Angeles, Miami, Miami Beach and New York. The group's events offer a broad range of antiques as well as antique, vintage and estate jewelry and watches, and annually draws more than 50,000 consumers and 3,000 dealers from 28 countries worldwide.
U.S. Antique Shows is a division of Emerald Expositions, North America's largest owner and operator of business-to-business and consumer tradeshows. The company's jewelry portfolio is comprised of trade and consumer events including the U.S. Antique Shows division, Couture, JA New York (Summer and Winter), and JA Special Delivery.
For more information, visit http://www.USAntiqueShows.com, like us on Facebook: http://www.Facebook.com/OfficialPage.USAntiqueShows, follow us on Twitter: @USAntiqueShows and explore our Pinterest: Pinterest.com/USAntiqueShows. Check out our new blog at blog.usantiqueshows.com.