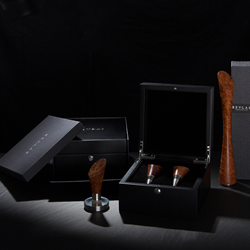 The Art of Sophisticated Gifting
(PRWEB) October 20, 2015
Collaborating with international artists, the new collection merges exotic woods, precious metals, and diamonds into one-of-a-kind shapes. Each piece will belong to a limited series of 10, solidifying BEVLAB as an exclusive purveyor of collector's edition bar tools.
This year, the company won the Best New Product Award at SCAA. Michael Hensel, CEO of BEVLAB, says the consumer feedback from the baristas was overwhelmingly positive: "We began to see that the combination of ergonomic design, as well as a rich aesthetic sensibility, was something that hadn't fully been explored within the beverage tool industry. If we kept expanding the design concept, both through the integrity of the materials, as well as the unique BEVLAB shape, we would arrive at a product that was as much a piece of art as it was a highly functioning tool."
For more about how the ergonomic design helps improve espresso taste, click here:
https://www.bevlab.com/the-art-of-the-espresso-and-why-we-tamp/
To explore the intricate craftsmanship of each product, click here:
https://www.bevlab.com/
BEVLAB's newest collaboration features Italian Carrara marble. The rarity of the marble (used by Michelangelo to carve David) moves BEVLAB products into what Hensel refers to as "heirloom" status--the limited-edition component and the historic integrity of the materials provides increased value for generations to come:
"When you're giving to the person that already has it all, the only way to give a memorable gift is to give the gift that's never been given. You must use rare materials, have integrity in the craftsmanship, and offer a customization process that shows the gift was made exclusively for them."
In pursuit of this exclusivity, BEVLAB's master craftsmen have re-imagined the personalization process. Whether your gift is in need of a company logo, a signature, a monogram, a combination of these, or even a completely original design, BEVLAB craftsmen will collaborate with you to help you carve out the most memorable mark. Build your piece here.