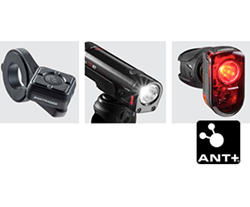 ANT+ Bike Light Device Profile is facilitating the launch of the first wireless light products in the market
Cochrane, Alberta (PRWEB) April 14, 2015
ANT Wireless, proven innovator in ultra-low power (ULP) wireless technology, is proud to enable Bontrager's latest line of ANT+ enabled Bike Light products. The Flare RT, Ion 700 RT and Transmitr Remote redefine cycling safety through wireless control of illumination while embarking on any daytime or evening ride. All three products are ANT+ compatible for convenient control of all bike lights from one spot on the handlebar.
Bontrager's latest offering is an innovative new product that allows cyclists to dictate when and where they will ride their bike. The impressive illuminations and controllable turning signals showcase the importance of bike accessories in making cycling and safer activity and sport.
"The ANT+ Bike Light Device Profile is facilitating the launch of the first wireless light products in the market," said James Fujimoto, Director – ANT Wireless. "Using a single wireless channel, a bike computer can control a large number of lights, along with other bike sensors, simultaneously -- a complexity that relies on the advanced features of the ANT Wireless protocol."
Ion 700 RT
Bontrager's Ion 700 RT headlight is wirelessly controllable though ANT+ and illuminates the road with 700 lumens via high-power CREE LED. The headlight features five illumination options: Irregular flash, 50 LM with flash, 250 LM, 450 LM and 700 LM.
The Ion 700 RT fully charges in just five hours through a sealed Micro USB port.
Flare RT
Bontrager's Flare RT is an ANT+ enabled taillight rated at 65 lumens that provides visibility from more than 2 KM away day or night, ensuring safety. This lighting ensures ultimate safety by placing users at the forefront of the road, allowing them to be seen with balanced optics and 270 degree visibility.
The Flare RT offers users two day-time and night-time visibility modes, ensuring their safety needs are met throughout all times and shades of the day. It also features turn signal capabilities, notifying those behind of the users' every move.
Additionally, the Flare RT transitions into battery save mode at 5 percent life to help ensure a safe ride home with depleted battery.
Transmitr Remote
The Transmitr Remote is an ANT+ enabled wireless remote control that can be paired with all Transmitr products.The remote can control up to seven lights at a time and attaches conveniently to any handle bar. Additional Transmitr feature highlights include real time battery life status of lights, on/off, and mode selection, all from the convenience of your own handlebar.
About ANT / ANT+ (http://www.thisisant.com):
ANT is an established protocol and silicon solution for ultra-low power (ULP) practical wireless networking applications. With over 100 million devices in the market, ANT+ facilitates interoperability between ANT+ products and the collection and automatic transfer of sensor data. Applicable in sport, wellness management and home health monitoring, ANT+ (built on the base ANT protocol) defines device profiles that specify data formats, channel parameters and network keys.
ANT+ is the pervasive ULP wireless technology facilitating the capture of critical market share in the exploding mobile sensor sector. This standardized communication platform enables quick-to-market solutions for application developers, sensor manufacturers, and cell phone makers. ANT+ has amassed an ecosystem of world-class technology vendors in the ANT+ Alliance, an open special interest group of companies who have adopted the ANT+ promise of interoperability. These industry leaders offer readily-available brand name products for sport, wellness management and home health monitoring. Visit thisisant.com/directory for a complete listing of ANT+ certified and verified products.
The company behind ANT Wireless is Dynastream Innovations Inc. (http://www.dynastream.com). Dynastream was established in 1998 and became a wholly owned subsidiary of Garmin Ltd. in December 2006. Dynastream is based in Cochrane, Alberta, Canada, and is a world innovator in the research and development of inertial and wireless technology.
ANT+ Product Directory (http://www.thisisant.com/directory):
The ANT+ Product Directory is a complete inventory of all ANT+ certified or verified products. It is a tool designed specifically to help consumers source hundreds of industry-leading devices and all compatible products within the vast ANT+ ecosystem. Apps and devices may be searched by product name, brand, activity or product category, allowing the consumer to create a monitoring system that meets their specific needs.
# # #
Media Contact:
Steph Schlachter
Marketing Coordinator
ANT Wireless
Steph(dot)Schlachter(at)thisisant(dot)com