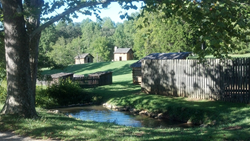 Franklin County, Va. (PRWEB) February 06, 2015
It's cold outside, but come and get warm in our Visitor Center auditorium at Booker T. Washington National Monument. Historian John Whitfield will have a real treat in store for you on Saturday, February 14 at 2 p.m. as he presents details about his latest research on families living on the Burroughs Plantation and in the Hales Ford community during the 1850s and 1860s. His research was driven by his desire to find out what happened to these people after the Civil War ended in 1865. Whitfield will be available to answer questions at the conclusion of his presentation at approximately 3 p.m., and at a reception afterwards.
Much of this information was used in Whitfield's new book, The Early Life of Booker T. Washington, which he wrote as a complementary publication to the new interactive exhibit, "Born Here, Freed Here," which opened at the park in September of 2014. Copies of his book will be available for purchase and for Whitfield to sign.
Whitfield will explain how he was able to find obscure historical records from several sources, such as land, tax and census records, to painstakingly piece together facts that have remained unknown until recently about both the enslaved and planter families living at the Burroughs Plantation during the time that Booker T. Washington was enslaved there. In addition, he has uncovered information about the 19th century Hales Ford area homes, stores and businesses, as well as other families, which gives valuable background about the culture of the pre-Civil War society in Franklin and Bedford Counties.
The program is free and open to the public. Please RSVP by calling (540) 721-2094 by 5 p.m., Thursday, February 12. Reservations are not required, but an accurate count is requested for refreshment purposes.
Booker T. Washington National Monument is one of 401 units of the National Park Service, the agency entrusted with the care of our nation's natural and cultural treasures. The park is located 16 miles northeast of Rocky Mount, VA via VA 122; 25 miles southeast of Roanoke, VA via U.S. 220 and VA 122; and 45 miles southwest of Lynchburg, VA via U.S. 460 and VA 122. The park is open seven days a week from 9:00 a.m. to 5:00 p.m.
Admission, parking and all programs are free. Visit us on the web at http://www.nps.gov/bowa/index.htm and find us on facebook at http://www.facebook.com/btwnm.